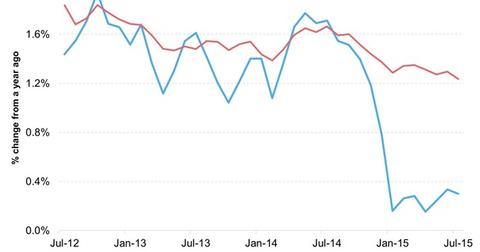 Import Prices and Crude Oil Keep US PCE Inflation Down
By David Ashworth

Sep. 20 2015, Published 11:10 a.m. ET
PCE inflation
When the Fed refers to "inflation," it's talking about the rate of change in PCE (personal consumption expenditure) inflation. This is the price index for PCE. According to the Fed, this indicator is the "most consistent over the longer run with the US Federal Reserve's statutory mandate." The Fed has a specified numerical mandate for PCE inflation that's given to it by the Congress. The Fed is expected to maintain PCE inflation at 2% in the long run.
Article continues below advertisement
A look at the above graph will show you the main reason why the Fed wasn't able to raise the federal funds rate for the past several months. The rate of PCE inflation isn't even close to the mandated 2% level. Both PCE inflation and core-PCE inflation fell. Core-PCE inflation doesn't consider a change in the prices of energy and food products, fell. The core-PCE inflation read as high as 2.10% in March 2012. However, it fell to 1.24% as of July 2015.
Crude oil and import prices
Crude oil prices started falling after the sanctions on Iran were lifted. This fall in prices started showing its impact on PCE inflation as well as ETFs like the PowerShares DB Oil ETF (DBO) and the United States Oil ETF (USO). Even stocks like Kinder Morgan (KMI), Chevron (CVX), and ConocoPhillips (COP) have been down in the 20% range in the past three months ending September 2015. The recent fall in crude prices will continue to keep PCE inflation depressed in the near future.
In contrast, a fall in core PCE inflation shows that import prices have fallen. This means that only energy prices aren't driving inflation down.
The Fed's take
In its September 2015 statement, policymakers noted that market-based measures of inflation have moved down more. Although they maintain that the impact of a fall in energy and import prices is transitory, the recent fall in crude oil prices may mean that it will take more time for the impact of these factors to dissipate.
After reviewing the three major indicators that policymakers look at, let's move on to an interesting aspect of the meeting—what policymakers think about the path of the federal funds rate in the future.