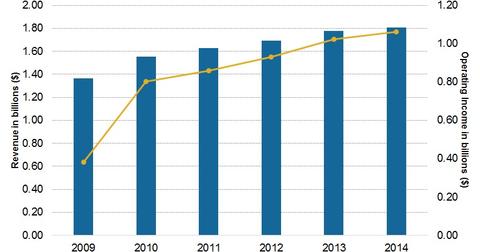 A Glimpse at Altria's Smokeless Tobacco Products Segment
By Penny Morgan

Updated
Smokeless tobacco products overview
As we discussed previously in the series, Altria Group's (MO) tobacco space includes smokeable tobacco products and smokeless tobacco products. Altria's smokeless tobacco operating company, US Smokeless Tobacco Company, manufactures smokeless tobacco products. Out of the total tobacco segment, smokeless tobacco products contributed 7.6% of the total tobacco segment revenue.
Article continues below advertisement
Revenue and operating income
Smokeless tobacco products revenue increased 1.7% to $1.8 billion in 2014, compared to 2013. This increase was primarily due to a 0.7% increase in shipment volumes in 2014, mostly due to moist its smokeless tobacco brands Copenhagen, Skoal, Real Seal, and Husky. Copenhagen and Skoal's combined retail (XRT) share increased 0.5 share points to 51.2% in 2014.
As mentioned earlier, the operating income of Altria's tobacco segment decreased by 1.9% to $7.9 billion in 2014, compared to $8.1 billion in 2013. However, operating income for smokeless tobacco products increased by 3.7% to $1.1 billion in 2014, compared to $1.0 billion in 2013. This increase in the smokeless tobacco products operating income partially offset the decrease in total tobacco segment.
Smokeless tobacco products produced by peers
Peers Reynolds American (RAI), Imperial Tobacco (ITYBY), and Japan Tobacco (JAPAF) also produce smokeless tobacco products. Reynolds American's subsidiary American Snuff Company produces moist snuff brands like Grizzly and Kodiak. Imperial Tobacco and Japan Tobacco smokeless tobacco products are Skruf Snus and Zerostyle Mint, respectively.
Other companies like British American Tobacco (BTI) and Philip Morris International (PM) do not have a presence in smokeless tobacco products.
Improved growth rate
The US regulatory framework grants authority to the FDA (Food and Drug Administration) to regulate restrictions on the advertising and promotion of cigarettes and smokeless tobacco products.
The smokeless products category volume grew by 2% in 2014, compared to 5.5% in 2013. However, USSTC continues to expand by establishing manufacturing facilities. The company also believes in improved growth rates over a longer duration and continues to monitor industry volume closely.
In the next part of this series, we'll look at Altria Group's wine business.