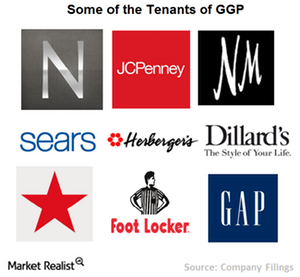 General Growth Properties' Top Tenants in Retail
Type of tenants
As a strategy, most contemporary malls have two type of tenants: anchor tenants and inline tenants. Anchor tenants are the property owners' key tenants, with large stores and a big names in the business, and attract other smaller tenants and customers to the mall.
In contrast, inline tenants are small tenants. They benefit from the footfall that anchor tenants draw to the mall. Anchor tenants pay lower rents and enter into long-term leases compared to inline tenants.
Article continues below advertisement
Major anchor tenants
Typical anchor stores sell consumer staples, as in the case of grocery-anchored centers, or else they're large, easily recognized retail chains, as in the case of centers anchored by Macy's.
Some of General Growth Properties' (GGP) major anchor tenants of include:
Herberger's
Nordstrom
Dillard's
JC Penney
Neiman Marcus
Sears
Kohl's
Bloomingdale's
Some of these anchor stores also have a presence in malls promoted by other competitors like Simon Property Group (SPG), Macerich Company (MAC), and CBL & Associates Properties (CBL).
The malls in GGP's portfolio receive a smaller percentage of their operating income from anchors than from mall stores, which are typically specialty retailers who lease space in the mall. In fiscal 2014, GGP's largest inline tenant was Limited Brands, which accounted for around 3.6% of income from rent. GGP's three largest inline tenants are:
Limited Brands
Gap
Foot Locker
Together, these companies accounted for around 9.4% of GGP's income from rent in fiscal 2014.
In 2014, GGP's portfolio generated total tenant sales (excluding anchors) of $20.5 billion, which breaks down to around $570 per square foot.
GGP makes up 2.90% of the holdings of the SPDR DJ Wilshire REIT ETF (RWR).
In the next part of this series, we'll discuss GGP's acquisition strategy.