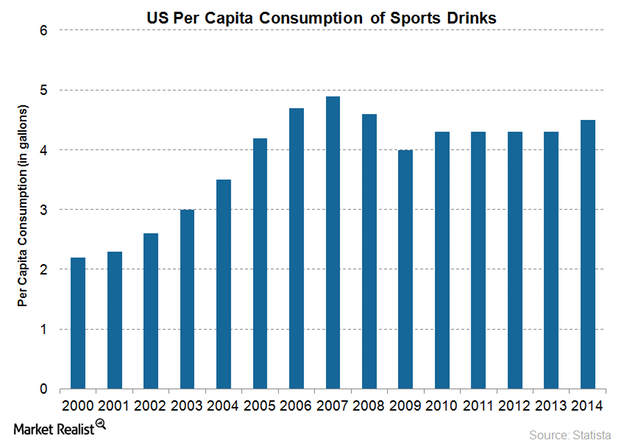 Dr Pepper Reaches for Sports Drinks with BodyArmor
By Sirisha Bhogaraju

Sep. 9 2015, Updated 2:21 p.m. ET
Stake in BodyArmor
On August 12, 2015, Dr Pepper Snapple Group (DPS) announced that it has purchased an 11.7% stake in BA Sports Nutrition, the company that owns the BodyArmor sports drink line.
BodyArmor is one of the third-party brands that Dr Pepper Snapple has been distributing through its direct store delivery network since 2013. The company wants to extend the distribution of this product line even further over the next year. Some of the other third-party allied brands distributed by Dr Pepper Snapple include Big Red, FIJI Water, Vita Coco, and Bai Brands.
Article continues below advertisement
About BodyArmor
Launched in 2012 by Mike Repole and Lance Collins, BodyArmor is a line of premium sports drinks that are enhanced with potassium-packed electrolytes, vitamins, and coconut water and contain no artificial colors or flavors.
Repole co-founded Vitaminwater, and Collins founded Fuze Beverage. Both Vitaminwater and Fuze Beverage were sold to The Coca-Cola Company (KO) in 2007. BA Sports Nutrition, which owns BodyArmor SuperDrink, has several high profile investors, including basketball superstar Kobe Bryant.
Rising popularity of sports drinks
With this investment, Dr Pepper Snapple can have access to the growing sports drink market. According to data provided by Statista, the per capita consumption of sports drinks increased from 2.2 gallons in 2000 to 4.5 gallons in 2014.
Through its stake in BodyArmor, Dr Pepper Snapple will be able to compete with PepsiCo's (PEP) Gatorade and Coca-Cola's Powerade. Dr Pepper Snapple, Coca-Cola, and PepsiCo together constitute 15.2% of the iShares US Consumer Goods ETF (IYK). Dr Pepper Snapple alone makes up 2% of the First Trust Consumer Staples AlphaDEX Fund (FXG).
Currently, Gatorade is the market leader of the US sports drink market. According to Beverage Digest, Gatorade ranked fifth in the 2014 list of top 10 liquid refreshment megabrands, which includes categories like sports drinks, carbonated soft drinks, energy drinks, and bottled water.
In the next part of this series, we'll discuss in further detail why Dr Pepper Snapple should benefit by expanding into the sports drinks category.