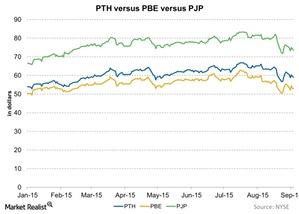 Comparing PTH to Its Peers, PBE and PJP
By Ivan Kading

Nov. 20 2020, Updated 4:41 p.m. ET
PTH combines PBE and PJP
PowerShares' own PowerShares Dynamic Biotech & Genome ETF (PBE) and PowerShares Dynamic Pharmaceuticals ETF (PJP) are the direct peers of the PowerShares DWA Healthcare Momentum ETF (PTH). The index of these three ETFs select stocks based on momentum.
PBE's index, the Dynamic Biotech & Genome Intellidex Index, focuses solely on stocks from the biotechnological sector. Similarly, PJP's index, the Dynamic Pharmaceutical Intellidex Index, only includes stock from the pharmaceutical sector in its portfolio.
By comparison, PTH's index selects stocks from the broader healthcare sector, including both biotechnological and pharmaceutical stocks. In the chart above, we can make a year-to-date (YTD) return comparison between these three ETFs.
Article continues below advertisement
PTH's focus on biotechnology
Biogen (BIIB), Incyte (INCY), and Alexion Pharmaceuticals (ALXN) comprise some of PBE's top holdings. PJP's major holdings include The Medicines Company (MDCO), Pfizer (PFE), and Johnson & Johnson (JNJ).
Taking a look at the graph above, we can see that these three PowerShare ETFs have performed similarly over the past year, though the performance of PTH tracks more closely to PBE than PJP. Almost 48% of PTH's assets are invested in the biotechnology sector, opposed to 22% in the pharmaceutical sector, accounting for the closer similarity between PTH and PBE.
The five-year annualized returns of PTH, PBE, and PJP are 21.0%, 24.1%, and 31.4%, respectively.
Valuation multiples
The PE (price-to-earning) ratios of PTH, PBE, and PJP are 30, 80.55, and 34.39, respectively. The biotechnology sector, currently at 153.22, typically has a high PE ratio.
The PC (price-to-cashflow) ratios of PTH, PBE, and PJP are 35.36, 36.87, and 23.07, respectively. The biotechnology sector is riskier than other sectors because very few biotechnological stocks become successful. PTH, because of its diversification, offers a more appealing option if you're looking at investing in the healthcare sector but would like to mitigate your risk.
In the next part of our series, we'll analyze PTH's holdings in greater depth.