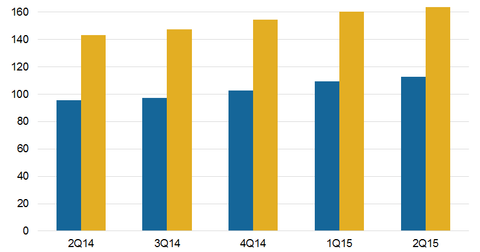 Charles Schwab's Bank and Investments in Infrastructure
By Robert Karr

Updated
Banking supports growth
Charles Schwab (SCHW) Bank's balance sheet expanded to $122.4 billion, up 18% on a year-over-year basis. The bank's net interest revenue led to an overall increase in net income. It reported net interest revenue of $612 million in 2Q15 as compared to $562 million in the prior year's quarter. The company doesn't use the bank and its product for client acquisition; the structure is used for supporting trading and wealth management products. The bank's outstanding mortgage and home equity loans stood at $11.1 billion as of June 30, 2015. Charles Schwab managed first mortgage origination of $1.1 billion during the quarter, and its bank's loan reserve ratios stood at 0.26% as of June 30, 2015, reflecting a strong quality of assets.
Article continues below advertisement
Managing assets
Charles Schwab is expanding its asset base through third-party investment advisors as well as new initiatives. As of June 30, 2015, Windhaven manages client assets totaling $14.9 billion, a decrease of 22% from the prior year's quarter. ThomasPartners helped in an expansion of the client base by 25% to $7.1 billion. Client assets managed under the Intelligent Portfolios, including Schwab Intelligent Portfolios and Institutional Intelligent Portfolios, increased to $3 billion as compared to $2.2 billion in the previous quarter.
Charles Schwab has also expanded its offering called ETF OneSource. It now offers nine more ETFs and one new provider, translating to a total of 211 ETFs across 66 categories of Morningstar. The company charges fees rather than commissions on these investments. The company's Schwab Index Advantage offers 130 plans, for which 90,000 clients have signed up for the ETF or index mutual fund versions.
Here's how a few of the firm's peers in the brokerage industry fared in terms of long-term debt to assets:
Interactive Brokers's (IBKR) ratio was 5.77x.
TD Ameritrade's (AMTD) ratio was 4.62x.
E*TRADE's (ETFC) ratio was 5.85x.
Together, these companies form 10.80% of the iShares U.S. Broker-Dealers ETF (IAI).