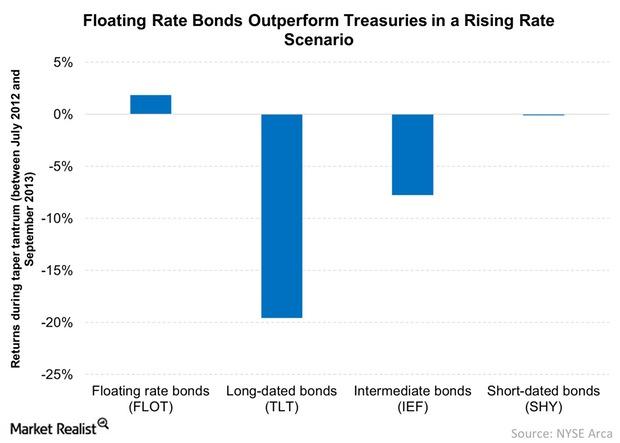 How You Can Hedge Interest Rate Risk as Rates Rise
By Heidi Richardson

Oct. 1 2015, Updated 11:08 a.m. ET
Shortening the duration of your bond portfolio can potentially help manage losses due to rising interest rates. Therefore, if you are concerned about price losses on bonds, you may want to invest in bonds with lower durations. Low duration can mean less volatility or price risk.
While shortening duration can help mitigate interest rate risk, another approach to consider is one that balances exposure to the very front end of the curve with exposure to intermediate maturities for additional yield potential and lower volatility, given that rates are likely to rise slowly and stay historically low for the foreseeable future. Exchange traded funds (or ETFs), such as the iShares Floating Rate Bond ETF (FLOT) and the iShares Short Maturity Bond ETF (NEAR), can help you shorten your duration.
Article continues below advertisement
Market Realist – Hedge interest rate risk by holding floating rate bonds.
The graph above compares the performance of FLOT to the iShares Barclays 20+ Year Treasury Bond ETF (TLT), the iShares Barclays 7-10 Year Treasury Bond ETF (IEF), and the iShares Barclays 1-3 Year Treasury Bond ETF (SHY). The comparison is for the last period of rising interest rates between July 2012 and September 2013.
FLOT outperformed the rest with returns of 1.9% in that period. TLT, which invests in long-dated Treasuries, had the biggest loss at -19.5%. Bonds with intermediate maturities fell by 7.7%, while SHY was flat for that period. As you can see, long-dated Treasuries were the most hit when interest rates rose previously. Meanwhile, floating rate bonds fared relatively well. As interest rates rise, consider investing in them.
However, the rate hike is likely to be gradual this time. Safe-haven bonds around the developed world are yielding much less than U.S. Treasuries. This makes long-dated Treasuries attractive for foreigners. Also, long-dated Treasuries remain low in supply. This is likely to support Treasuries with longer maturities. The slowing global growth rates are also likely to keep Treasury yields low.