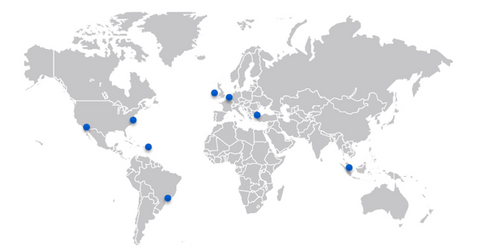 Amgen Develops World-Class Manufacturing Capability
By Margaret Patrick

Sep. 17 2015, Updated 8:06 a.m. ET
Manufacturing capability
In addition to its innovative drug pipeline, Amgen (AMGN) has focused on introducing innovative technology to develop a world-class manufacturing capability. The company has also set up its manufacturing plants in select geographies to ensure competitive tax rates.
The above graph shows the location of Amgen's drug manufacturing facilities. The company has manufacturing facilities in Singapore, Ireland, and Puerto Rico, which are among the major tax havens in the world.
Article continues below advertisement
Tax havens are those states, countries, or independent areas where taxes are levied at very low rates. Excluding the impact of tax incentives for research and development, Amgen has managed to maintain an effective tax rate of 18%–19%. The company expects to pay a similar tax rate through 2018, as research and development expenses shift to selling, general, and administration (or SG&A) expenses, required for product launch. Peers such as Biogen (BIIB), Celgene (CELG), and Gilead Sciences (GILD) have effective tax rates of about 25%, 14%, and 19%, respectively.
Innovative manufacturing technology
To develop manufacturing capability as its competitive advantage, Amgen has launched a next-generation bio-manufacturing facility in Singapore and plans to set up more in the coming years. The company will develop its pipeline products at these new facilities. Products from these facilities will enter the market in 2017.
Next-generation bio-manufacturing facilities are expected to significantly increase Amgen's bulk production capacity. At the same time, they will require one-fourth of the capital cost, one-half of the construction time, and one-third of the operating expenses required for conventional facilities. These new facilities, with sizes of about 120,000 sq. ft., are almost one-eighth smaller than their conventional counterparts, which are around 750,000 sq. ft. in size. However, despite substantial cost savings, Amgen expects that the throughput levels of the new facilities will match those of conventional ones.
Investors can get diversified exposure to Amgen's world-class manufacturing capability as well as the new manufacturing technology, while avoiding unique company risks, by investing in the iShares NASDAQ Biotechnology ETF (IBB). IBB maintains 8.53% of its total holdings in Amgen.