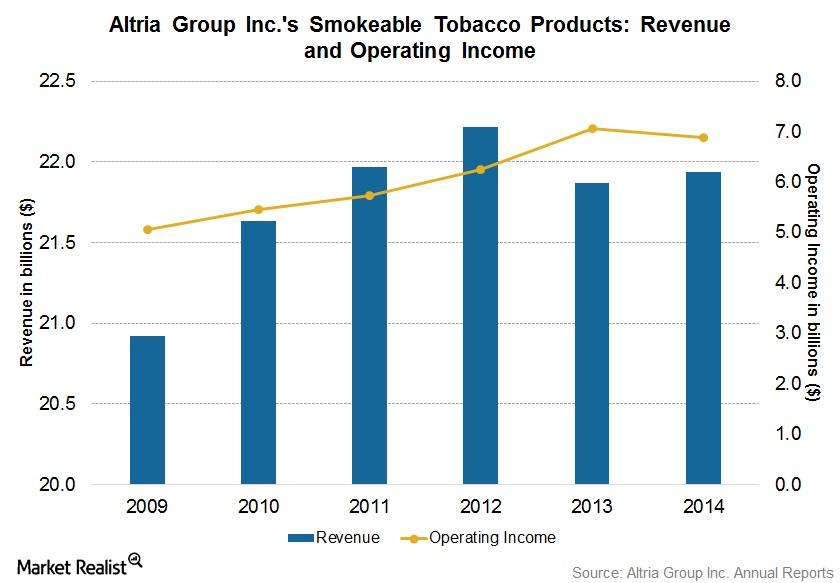 Altria Group's Smokeable Tobacco Product Segment
By Penny Morgan

Sep. 21 2015, Updated 8:05 p.m. ET
Smokeable tobacco products overview
Altria Group (MO) operates in two product segments, with three categories of revenue:
Tobacco, which contributes to 95.8% of the total revenue
Wine, which contributes to 3.5% of the total revenue
Other revenue, which makes up 0.7% of the total revenue
Altria's tobacco business segment consists of smokeable tobacco products and smokeless tobacco products. The company's smokeable tobacco operating companies include:
Philip Morris USA, which manufactures and sells smokeable tobacco products like cigarettes
John Middleton, which manufactures and sells machine-made large cigars and pipe tobacco
Article continues below advertisement
Revenue breakdown
Altria's tobacco segment revenue, including tobacco excise tax, increased by 0.4% to $23.7 billion in fiscal 2014, compared to $23.6 billion in 2013. The net revenue for its smokeable tobacco products catetgory, which includes cigarettes and cigars, came in at $21.9 billion, contributing 92.4% of the total tobacco revenue.
The company's total cigarette revenue increased by ~0.3% to $21.4 billion in 2014, compared to 2013. Philip Morris USA's Marlboro has been the largest-selling cigarette brand in the US for 35 years. In 2014, Marlboro's retail (XRT) share of the market was 43.8%, larger than peer cigarette brands like Reynolds American's (RAI) Camel, Vector Group's (VGR) Eagle 20s, and British American Tobacco's (BTI) Lucky Strike.
Revenue from cigars increased by 2.9% to $0.6 billion in 2014, compared to 2013. The increase was primarily due to the 6.1% increase in shipment volumes to 1.3 billion units. Black & Mild is the principal cigar brand of Middleton.
Operating income
Altria's tobacco segment operating income decreased by 1.9% to $7.9 billion in 2014. This increase was primarily due to the lower operating income of smokeable tobacco products. Operating income decreased by 2.7% to $6.9 billion in 2014, compared to $7.1 billion in 2013. This decrease was primarily due to a 3% decrease in shipment volumes in cigarettes.
Outlook
Philip Morris USA and Middleton have manufacturing facilities in Richmond, Virginia, and Limerick, Pennsylvania, respectively. Both facilities plan to strengthen their smokable tobacco products by enhancing production of cigarettes and cigars.
Altria plans to strengthen Marlboro's brand equity as well. For example, Philip Morris USA has grown its product portfolio by expanding retail (XRT) distribution of Marlboro Southern Cut in the Gold family (of the four flavor families, Red, Gold, Green and Black).
In the next part of this series, we'll look at Altria Group's smokeless tobacco products segment.