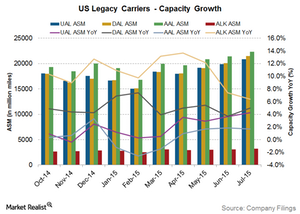 Alaska Airlines Capacity Growth Is Faster than That of Its Peers
Capacity growth
The increase in capacity of airlines is measured using available seat miles (or ASM), while the improvement in capacity utilization is measured using the load factor.
In this article, we'll discuss the capacity growth of various airlines as observed in the chart above.
Article continues below advertisement
Article continues below advertisement
Alaska Air Group leads capacity growth
Alaska Air Group (ALK) saw the highest surge in traffic demand and was the leader in capacity growth. In July 2015, the airline showed a 6.4% year-over-year (or YoY) increase in its capacity. Delta Air Lines (DAL) saw the second highest capacity growth of 5% YoY in July 2015.
United Airlines (UAL) followed the trend by growing capacity by 4.2% in July 2015, and American Airlines (AAL) increased capacity as well, albeit at a much slower pace of 1.7%.
Trend analysis
As the chart above shows, capacity growth rankings have remained the same throughout the last ten months. Alaska Air has been increasing capacity at a much higher pace than its peers. It's followed by Delta, United, and finally American. These airlines are a part of the iShares Transportation Average ETF (IYT), which invests ~16.85% of its holdings in airline stocks.
It's interesting to note that Alaska Air's growth rate has been falling for the past four months, as has Delta's. United, on the other hand, has shown increasing capacity growth rates, while American's growth rate has remained fairly constant.
Alaska Air's higher-capacity growth means higher growth for the airline as compared to its peers. In fact, Alaska Air has shown higher revenue growth than its peers for the last seven quarters, followed by Delta. This trend follows the capacity growth trend.
Alaska Air has outpaced all competitors with a strong 4.5% YoY growth in its revenues for 2Q15. This is followed by Delta's 0.8% YoY growth as compared to United and American's falls of 4% and 4.6%, respectively.
However, investors should be aware of how much of their new capacity the airlines are actually putting to use, which is what we'll talk about in our next article.