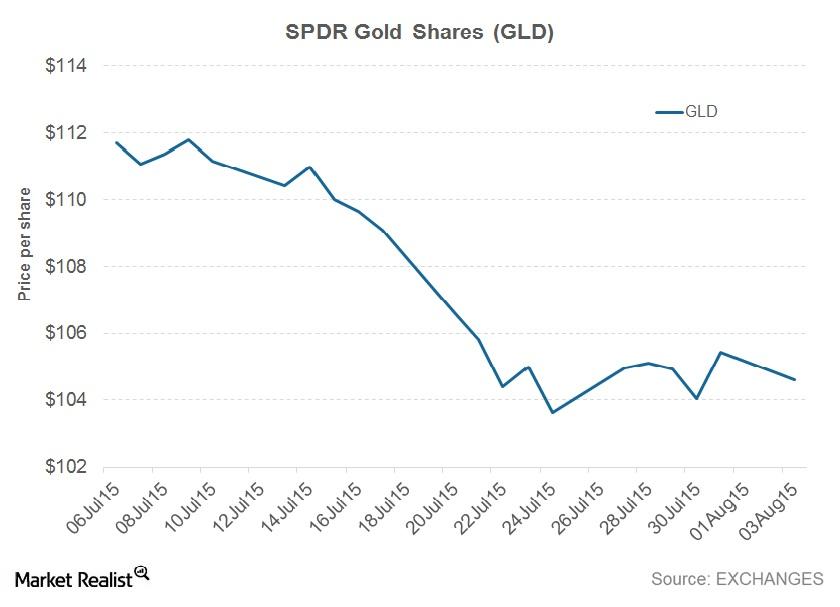 Why Is the SPDR Gold Shares ETF (GLD) Losing Its Sheen?
Precious metal sliding
Gold prices have been tumbling since last month. Other precious metals—like silver, platinum, and palladium—have followed suit. An economically unstable environment, given the Greek crisis worsening and the Chinese markets losing their glory, led to gold further declining. Gold for August delivery lost close to 6.70% on a 30-day trailing basis. Gold's current implied volatility has also decreased and settled at 15.91. This likely implies that gold prices are stabilizing.
Article continues below advertisement
Last trading day (Friday) was positive for gold and silver, as gold gained 0.12%. Similarly, silver has also lost its sheen and slid by 6.51% on a 30-day trailing basis. Friday was positive for silver and gold, as both metals surged. However, platinum and palladium slid down by 0.89% and 0.76%, respectively.
SPDR Gold Shares performance
The SPDR Gold Shares ETF (GLD) is the world's largest ETF. It's also the highest-traded. Friday's price for GLD was $104.39. As a rout has settled in, the demand for GLD has also fallen. GLD has taken a hit of 6.82% on a 30-day trailing basis. On Friday, the ETF gained 0.47%, owing to an up-day for gold. The chart above shows you GLD's performance over the last impactful month.
Article continues below advertisement
Miners ETF falling
Gold miners are taking a beating due to declining gold and silver prices. Whether it's viable for them to continue mining with such low asset prices remains to be seen. The Direxion Daily Gold Miners ETF (NUGT) has been among the biggest losers in the gold miner ETFs segment. NUGT rose 7.85% on Friday. Its five-day training loss has been 2.77%, and it recorded a whopping 61.32% loss on a 30-day trailing basis. Similarly, the Global X Silver Miners ETF (SIL) gained 1.57% on Friday and has a 30-day trailing loss of 24.45%.
Mining companies are also bleeding due to the downfall. Mining companies First Majestic Silver (AG) and Royal Gold (RGLD) gained 4.9% and 0.43%, respectively. Meanwhile, Rio Alto Mining (RIO) traded flat. These companies together represent 5.43% of the VanEck Vectors Gold Miners ETF's (GDX) portfolio.