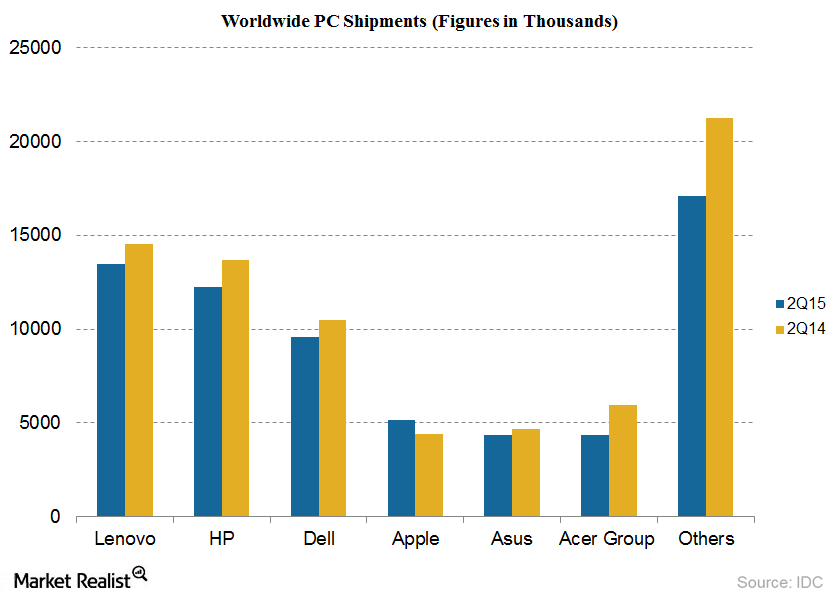 What Are Seagate's Key Business Segments?
Business divisions of Seagate Technology
As Seagate (STX) is a leading provider of electronic data storage products for personal storage and enterprise applications, its main products are HDDs (hard disk drives), which are the most common medium of data storage due to their quality, cost, and energy efficiency. HDD storage digitally encodes data on rotating disks that have magnetic surfaces. In the last few years, solid state drives (or SSDs) have been gaining popularity, as they do not have rotating parts and thus consume less power in comparison to HDDs.
Article continues below advertisement
Seagate manufactures products for a variety of business segments, including enterprise applications, and client compute and non-compute applications. For firms in the enterprise application business segment, Seagate's products are designed for servers, workstations, and mainframes. In the client compute segment, Seagate supplies products to desktop and laptop manufacturers. In the non-compute segment, Seagate offers products for personal and end user devices, including gaming consoles, video recorders, and portable external storage systems.
Major revenues generated from OEMs
In the last three fiscal years, Seagate has generated the majority of its revenues from original equipment manufacturers such as Dell and Hewlett-Packard (HPQ). For example, in fiscal 2012, 2013, and 2014, Dell accounted for consolidated revenues of 15%, 13%, and 13%, respectively. Similarly, Hewlett-Packard accounted for 14%, 10%, and 13% of revenues in 2012, 2013, and 2014, respectively.
As seen in the above chart, PC sales have been declining on a quarter-over-quarter basis for all firms with the exception of Apple (AAPL). Declining PC sales have been negatively impacting revenues of PC manufacturers and storage and semiconductor companies.
Analysts expect Seagate's enterprise and cloud storage business to grow at a rapid pace due to exponential global growth in the cloud computing segment. Seagate has recently acquired Avago Technologies' (AVGO) flash business to enhance its business portfolio. Flash products have higher margins in comparison to HDDs, as they are priced at a premium to traditional storage platforms. Thus the company expects higher margins in this segment.
Seagate makes up 0.09% of the SPDR S&P 500 ETF Trust (SPY) and 0.39% of the Technology Select Sector SPDR Fund ETF (XLK).