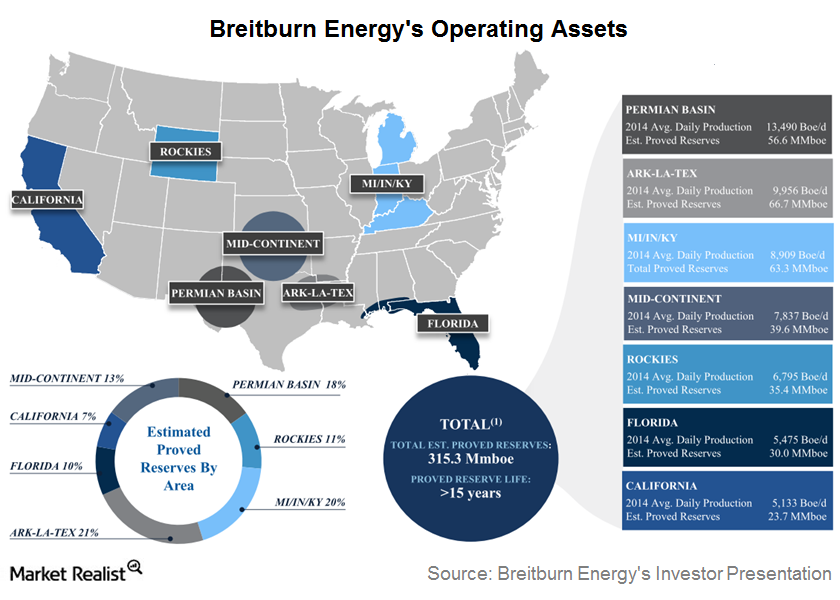 An Overview of Breitburn Energy
Breitburn Energy Partners
Breitburn Energy Partners (BBEP) is involved in the acquisition and development of oil, NGL (natural gas liquids), and natural gas properties in the United States. BBEP's assets consist primarily of producing and non-producing oil, NGL, and natural gas reserves located in seven regions of the country.
Article continues below advertisement
Article continues below advertisement
Breitburn Energy's reserves
As of December 31, 2014, BBEP's total estimated proved reserves were 315.3 MMBoe (million barrels of oil equivalent), of which approximately 55% was oil, 8% was NGLs, and 37% was natural gas.
Property impairments
According to a recent company filing, "There were no impairments of proved properties during the three months ended June 30, 2015. Impairments of proved properties totaled $59.1 million for the three months ended March 31, 2015, including $33.1 million for our Permian properties, $16.7 million for our Rockies natural gas properties and $9.3 million for our Mid-Continent properties, primarily due to the impact that the decrease in oil and natural gas prices during the three months ended March 31, 2015 had on certain of our low operating margin properties."
BBEP's recent acquisitions
Breitburn Energy completed a few acquisitions in late 2014 to boost its total production. In November 2014, the partnership completed its merger with QR Energy. BBEP issued 71.5 million common units and paid $350 million in cash in the deal consideration.
Aside from the Breitburn–QR Energy merger, the MLP space also recently saw merger announcements from Vanguard Natural Resources (VNR), Eagle Rock Resources (EROC), and LRR Energy (LRE).
BBEP constitutes 0.22% of the Global X SuperDividend Alternatives ETF (ALTY).