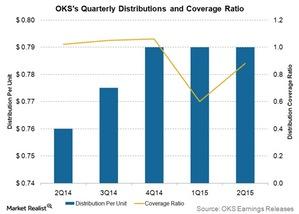 ONEOK Partners Reports Distribution Coverage Missed 2Q15 Target
Distributions remained unchanged
On August 4, 2015, ONEOK Partners (OKS) declared a distribution of $0.79 per unit for the second quarter of 2015. There was no increase in the firm's distributions compared to the previous quarter. The MLP didn't increase its distributions in 1Q15 either. ONEOK Partners' distributable cash flow in 2Q15 was $277 million, 28% higher than in 1Q15 and 2% higher than that in the same quarter of last year.
Article continues below advertisement
OKS's distribution coverage ratio
OKS's distribution coverage ratio in 2Q 2015 was 0.88x. Though this is higher than the 0.6x ratio reported in 1Q15, it's still less than 1x. Distribution coverage is the ratio of distributable cash flow to total distributions. A ratio below 1x is considered risky, as it shows that the firm is distributing more cash than it's generating, which can't go on indefinitely.
The above chart shows the company's quarterly distribution coverage ratio over the last five quarters. The distributions have been flat for two quarters. Generally, MLPs with stable earnings target a distribution coverage ratio in the range of 1 to 1.1 times the distributable cash flow. MLPs whose operations are more sensitive to seasonal factors target a higher coverage ratio.
Commodity prices affected performance
According to OKS, the sharp decline in commodity prices and lower NGL (natural gas liquid) price differentials impacted the company's first-quarter performance in 2015. The MLP is increasingly focused on fee-based revenues to minimize commodity price risks. This contributed to the growth in its cash flow this quarter. OKS targets a long-term annual coverage ratio of 1x, irrespective of the commodity price environment. The MLP earlier stated a long-term target annual coverage ratio of 1.05x to 1.15x.
Peers Energy Transfer Partners (ETP), Enbridge Energy Partners (EEP), Targa Resources (NGLS), Tallgrass Energy Partners (TEP), and Summit Midstream Partners (SMLP) reported an increase in 2Q15 distributions compared to distributions in 1Q15.
ETP forms ~2% of the First Trust North American Energy Infrastructure Fund (EMLP).