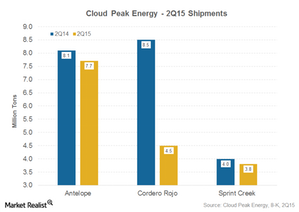 Cloud Peak Energy's 2Q15 Shipments: Potential Risk Factors
Shipments
Cloud Peak Energy (CLD) shipped 16.0 million tons of coal from its three owned and operated mines in the Powder River Basin (or PRB) in 2Q15, compared to 20.6 million tons during 2Q14—a more-than-20% fall. The company delivered 1.4 million tons of coal through its logistics segment in 2Q15, up from 1.2 million tons in 2Q14. Deliveries to Asia remained unchanged at 1.0 million tons in 2Q15 and 2Q14. The lower shipments were a product of weather-related impacts, reduced production at the company's Cordero Rojo Mine, and reduced demand for coal due to weak natural gas prices.
Article continues below advertisement
Revenues
Price per ton for the company's coal came in at $12.76 in 2Q15, down from $13.08 in 2Q14. As a result of lower pricing and shipments, coal revenues dwindled to $206.3 million in 2Q15 from $272.1 million in 2Q14. Despite higher deliveries in the logistics segment, revenues fell to $48.6 million (including internal revenues) in 2Q15 from $54.7 million in 2Q14. Overall revenues came in at $244.1 million in 2Q15 compared to $320.9 million in 2Q14.
About CLD's operations
CLD mines coal solely in the Powder River Basin, the cheapest coal-producing region in the United States, through its three mines. Peabody Energy (BTU), Arch Coal (ACI), and Alpha Natural Resources (ANRZ) are other prominent coal producers (KOL) with operations in the PRB. Alpha Natural Resources filed for Chapter 11 bankruptcy on Monday, August 3, 2015, as expected.
CLD also provides coal logistics services.