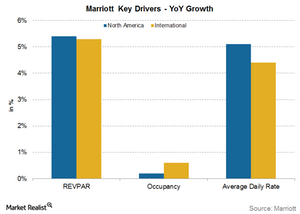 Marriott: Revenue per Available Room Increased in 2Q15
By Ally Schmidt

Updated
Measure of efficiency
Marriott International (MAR) is a hotel and lodging company. A hotel's operational efficiency is measured by its RevPAR (revenues per available room), which is calculated by dividing a hotel's total guest room revenue by its room count.
The two main factors driving a hotel's RevPAR are its occupancy rates and average daily rates or room rate. Here are some other factors that can affect the occupancy and room rates:
the services offered by the hotel
competitor services
national economic conditions
tourism
seasonality
Article continues below advertisement
RevPAR growth
In 2Q15, Marriott's RevPAR grew by 5.3% year-over-year, taking into account its system-wide international properties. This was driven by 4.4% growth in room rates. Occupancy grew by a meager 0.6% to 77.4%.
In North America, the system-wide RevPAR rose 5.4%. This was driven by a strong 5% growth in room rates. Occupancy rates increased by 0.2% to 78%.
In 2Q15, Hilton Worldwide's (HLT) RevPAR increased by 5.2%, Starwood Hotels & Resorts Worldwide's (HOT) by 4.1%, Hyatt Hotels' (H) by 2.2%, and Wyndham Worldwide (WYN) saw its RevPAR increase by 2.5%.
Marriott forms 0.56% of the Consumer Discretionary Select Sector SPDR Fund (XLY).
Spreading customer base
Hotel companies in the US are finding new ways to attract more customers. Marriott and its competitors now provide a larger variety of lodgings tailored to different categories of traveler. These companies operate a number of brands in various markets. If the brands become the preferred choice of tourists, the company can capture higher market shares, sometimes in new, fast-growing markets.
Asset-lite model of operations
The company uses an asset-lite model to manage, franchise, or license most of its properties. Marriott relies on other companies to own the properties it operates. By focusing only on operations, the company is better able to maintain operational efficiency during economic and industry downturns.