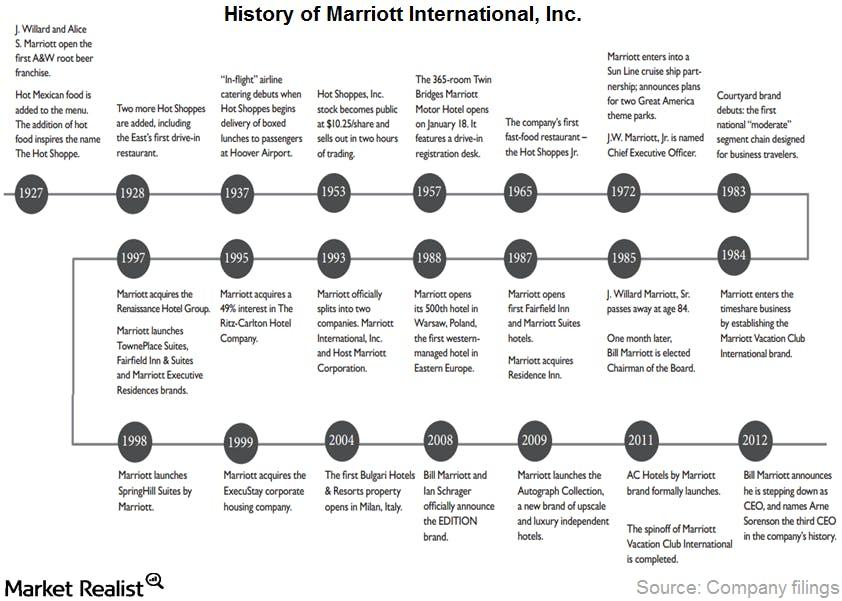 Must-know: Marriott International Inc.
Marriott's history
Marriott International's headquarters are in Bethesda, Maryland. It operates and franchises hotels under a diversified portfolio. It's portfolio has 18 brands. The company was founded in 1927 by J. Willard and Alice S. Marriott. They opened a nine-seat beer stand in Washington D.C. Then, they added food to the menu. They named the company Hot Shoppers Inc. The company's stock started trading publicly in 1953.
Article continues below advertisement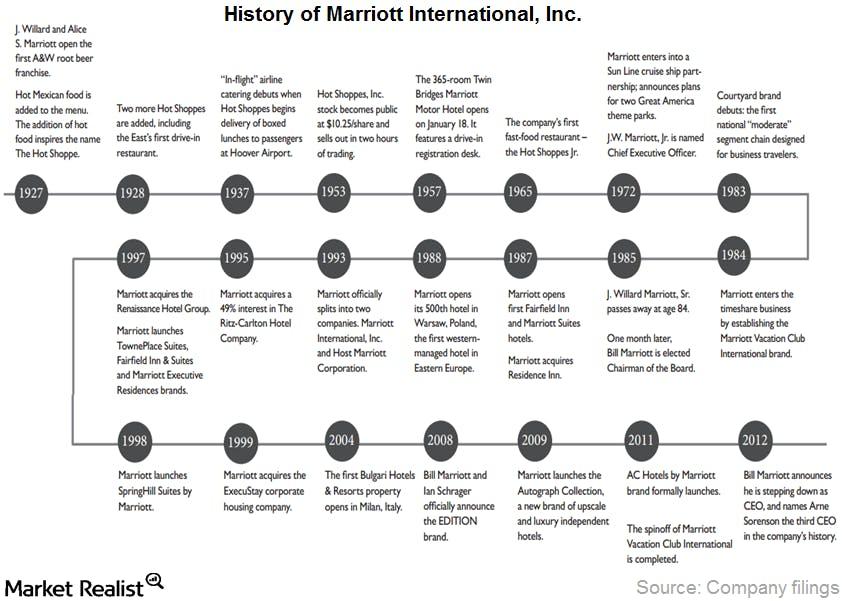 The first motor hotel opened in 1957. J. Willard's son, Bill Marriott, managed the hotel. He joined the company in 1956. He spent over 50 years building the company into one of the leading hospitality companies in the world.
Currently, J.W. Bill Marriott, is Marriott's executive chairman. He's also chairman of the board. He succeeded his father as CEO in 1972. In March 2012, Arne M. Sorenson succeeded Bill Marriott as the president and third CEO. He held leadership roles in the company for 15 years.
The above chart shows Marriott's (MAR) history. It highlights important milestones. Click here for a similar background overview of Hilton Worldwide Holdings (HLT).
Today, Marriott appears on Forbes' list of the world's most innovative companies. It has more than 3,900 properties spread across 70 countries. Its customer loyalty program, Marriott Rewards, won the Freddie Award for Best Hotels Rewards Program in the Americas. It won the award for seven consecutive years. Also, it ranked highest in customer satisfaction in the J.D. Power Hotels Loyalty program report. It's rated high by U.S. News and World Report readers. It's also rated high by various travel magazines.
Marriott's (MAR) main competitors include HLT, Starwood (or HOT), Hyatt (H), and Wydham (WYN). Investors can get exposure to many of these stocks through the Consumer Discretionary Select Sector SPDR Fund (XLY)
The XLY includes companies from hotels, restaurants, and leisure. It also has companies from other industries like retail, automobile, media, apparel and luxury goods, and other consumer services.