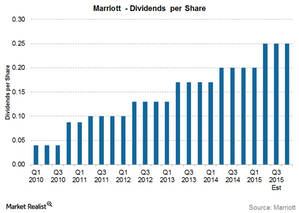 Is Marriott International an Investor's Stock?
By Ally Schmidt

Updated
Stock growth
Marriott International (MAR) stock has risen by ~73% in the past two years, while the SPDR S&P 500 ETF Trust (SPY) has risen by 23%. Over the past five years, here's how Marriott stock fares in a comparison of key investments:
Marriott – 110%
SPY – 87%
Hilton Worldwide (HLT) – 18%
Starwood Hotels & Resorts Worldwide (HOT) – 55.5%
Hyatt Hotels – 35%
Wyndham Worldwide (WYN) – 204%
Article continues below advertisement
Shareholder returns
As the economy returns to health, Marriott International is investing in mergers and acquisitions to expand its presence globally. As well as investing in the business, Marriott returns excess cash to its shareholders through dividends and share repurchases. The company has returned more than $4 billion to shareholders from 2012 to 2014 and plans to return over $2 billion in repurchases and dividends in 2015. Clearly, the company's earnings per share and dividend per share have enjoyed stable growth.
Dividends
Marriott International is a consistent dividend payer, currently paying $0.25 per share. The company has a dividend yield of 1.41% and a dividend payout ratio of 29%.
Share repurchases
Marriott finds that share repurchases are a more flexible way to reward its shareholders than paying out dividends. The company repurchased 24 million shares for $1.5 billion last year. And it has stocked up 17.3 million shares worth $1.35 billion in the first half of 2015. Recently, the company authorized another 25 million shares for repurchase, taking the total to 40 million.