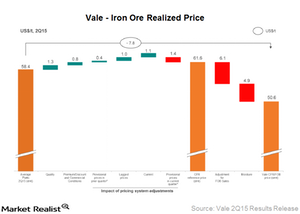 What Led to Vale's Increased Realized Iron Ore Prices in 2Q15?
Iron ore price realization
Vale S.A.'s (VALE) average CFR (cost and freight) realized price for iron ore fines increased by $3.30 per ton, from $58.20 per metric ton in 1Q15 to $61.50 in 2Q15. This increase is despite the 62% fall in the average Platts Iron Ore Index from $62.40 per ton in 1Q15 to $58.40 per ton in 2Q15.
There are several reasons for this relatively better performance. One is the increase in the overall quality of iron ore, which improved from 63% iron ore content in 1Q15 to 63.2% in 2Q15. This is mainly due to the ramp-ups of the N4WS mine and some of the itabirites projects, which have higher iron ore content than the company's average.
Another factor that contributed to higher realized prices is the positive impact of provisional pricing set at the end of 1Q15. This positively impacted prices by $0.40 per ton compared to -$2.80 per ton in 1Q15.
Going forward, Vale management expects the average product quality to go up from the ramp-up of the N4WS mine and the itabirites project.
Article continues below advertisement
Premiums on pellets fall
Vale's premium on pellets fell in 2Q15. Pellet prices fell by $6.80 per ton to $82 in 2Q15 compared to $88.80 per ton in 1Q15. This is compared to a fall of $4 per ton quarter-over-quarter in pellet's benchmark prices.
Cliffs Natural Resources (CLF) is also a major North American pellet producer. Rio Tinto (RIO) and BHP Billiton (BHP) also have some pellet operations in North America and Brazil, respectively, through joint ventures and subsidiaries.
BHP Billiton, Rio, and Vale form 32.1% of the iShares MSCI Global Metals & Mining Producers ETF (PICK). The SPDR S&P Metals and Mining ETF (XME) also provides exposure to this space.
While Vale's performance in iron ore was above expectations, the same cannot be said about its coal division performance. We'll find out the reason for this in our next article.