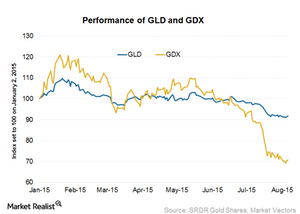 Key Indicators Are Pointing to Gold Prices
Gold prices lurk near 5.5-year lows
Gold prices have been steadily falling since the last week of June. As of August 11, gold prices (GLD) have fallen by 4.40% in a month. In the same period, the VanEck Vectors Gold Miners Index (GDX) has fallen 14.70%.
Because of gold miners' operating leverage, their stock prices usually fall faster when gold prices are falling. This works the other way too. The fall in GDX is led by senior gold miners including Barrick Gold (ABX), Newmont Mining (NEM), Goldcorp (GG), and Agnico Eagle Mines (AEM). They fell by 31.80%, 28%, 19% and 22.30%, respectively.
Goldcorp forms 7.20% of GDX's holdings.
Article continues below advertisement
Gold indicators
Gold prices are impacted by a host of variables. In this series, we'll look at the following factors that investors can track to get a sense of the direction of gold prices. The factors include:
the US labor market
Chinese gold demand
gold ETF holdings
US trade balance
We'll also look at the impact of US data on the dollar and gold prices. Then, we'll discuss various factors of the US labor market. These are the most important considerations the Fed reviews before deciding on the quantum and timing of rate hikes. The Fed's looming rate hike has been the single most important variable impacting gold prices lately.
These indicators should point you in the same direction as gold prices.