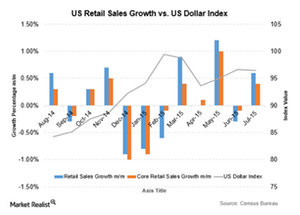 July's US Retail Sales Meet Estimates
US dollar index ends on a high
The US dollar index, a measure of the strength in the US dollar against a basket of six currencies, hit a positive note on August 13, 2015, as US retail sales came in at expected levels for July. The increase in the retail sector was broad-based with suitably distributed growth. Good figures in the consumer sector signaled renewed growth in the economy and are expected to support the US Federal Reserve's goal to increase benchmark interest rates this year.
Article continues below advertisement
Article continues below advertisement
At this stage, three monetary policy meetings are scheduled to take place before the current fiscal year ends. The US Fed has been following a wait-and-see strategy for a considerable time. A climb in consumption, coupled with encouraging non-farm payroll numbers last week, could act as crucial ingredients for the approaching rate hike.
US retail sales, core sales release at forecasted levels
US retail sales came in at the estimated level for July at 0.6%. The increase was primarily driven by an increase in auto sales as households scaled up their vehicle purchases. Lower unemployment numbers, financial stability, and decreased fuel prices also contributed to the rise. Core retail sales, which are calculated by excluding automobile sales, rose by 0.4%, matching forecasts.
Impact on the market
Exchange-traded funds that relate to the retail sector were trading on a mixed note, as the SPDR S&P Retail ETF (XRT) fell 0.15% and the VanEck Vectors Retail ETF (RTH) rose 0.06%.
Automobile major the Ford Motor Company (F) gained 0.20% after the release. On the other hand, Walmart (WMT) and Macy's (M) ended up on a negative note, at -0.65% and -1.76%, respectively.