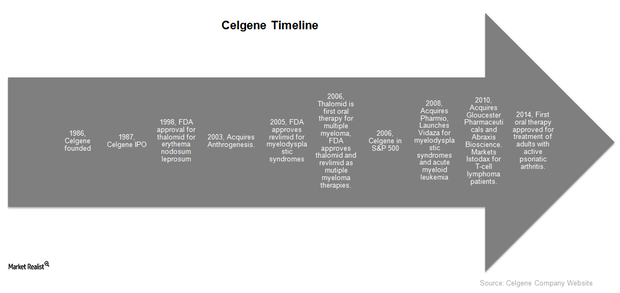 Introducing Celgene, a Leading Biotech Company
Company overview
Based in Summit, New Jersey, Celgene Corporation (CELG) specializes in manufacturing and marketing therapies for people suffering from blood and solid tumor cancers such as MM (multiple myeloma), CLL (chronic lymphocytic leukemia), NHL (non-Hodgkin's lymphoma), and pancreatic cancer. The company also specializes in immuno-inflammatory diseases such as psoriasis and psoriatic arthritis.
Article continues below advertisement
Article continues below advertisement
History
Celgene was founded in 1986 by two scientists, David Stirling and Sol J. Barer. Following its IPO (initial public offering) in 1987, the company has consistently delivered breakthrough innovations in biotechnology.
In 1992, Celgene entered into a licensing arrangement with Rockefeller University to use the compound thalidomide. The drug was approved by the FDA (Food and Drug Administration) for the treatment of patients suffering from AIDS and cachexia, a body-wasting syndrome. Thalidomide (brand name Thalomid) proved to be a blockbuster therapy for Celgene, as it was also approved by the FDA for erythema nodosum leprosum, a leprosy-related complication, in 1998.
Celgene's next successful drug was Revlimid, approved by the FDA in 2005 for patients suffering from myelodysplastic syndromes. In 2006, Thalomid's indicative use was expanded, after the drug, in combination with dexamethasone, was approved as a first-line therapy for MM. Thalomid thus became the first oral therapy for MM. In the same year, the FDA also approved Revlimid with dexamethasone as a second-line therapy for MM, and over the next few years, Celgene received FDA approvals for other cancer-related drugs, such as Istodax, for T-cell lymphoma, Abraxane, for non-small cell lung cancer, and Pomalyst, for MM. In 2014, Celgene's Otezla was approved as the first oral therapy for active psoriatic arthritis.
Article continues below advertisement
Strong inorganic growth
Since its inception, Celgene has actively pursued acquisitions of privately held companies in niche areas for access to innovative compounds. In 2000, the company acquired Signal Pharmaceuticals, which had been developing drugs to regulate disease-related genes. Its next acquisitions included Anthrogenesis Corporation, in 2003, followed by Pharmion Corporation, in 2008, and Gloucester Pharmaceuticals, in 2009. In 2010, Celgene acquired Avila Therapeutics—for $350 million in cash, plus up to $195 million as contingent milestone payments, and $380 million in potential milestone payments. Most recently, in July 2015, Celgene announced that it will acquire Receptos for $7.2 billion. Viewed positively by the investment community, this announcement has led to an increase in Celgene's share price by about 5.7%.
More Celgene numbers
With a market capitalization of $103.6 billion, Celgene is one of the major biotechnology companies in the US. Peers such as Amgen (AMGN), Biogen (BIIB), and Gilead Sciences (GILD) have market capitalizations of about $129.4 billion, $74.5 billion, and $170.6 billion, respectively.
Investors can invest in Celgene while avoiding unique company risks by investing in the iShares NASDAQ Biotechnology ETF (IBB). Celgene makes up 8.66% of IBB's total holdings.