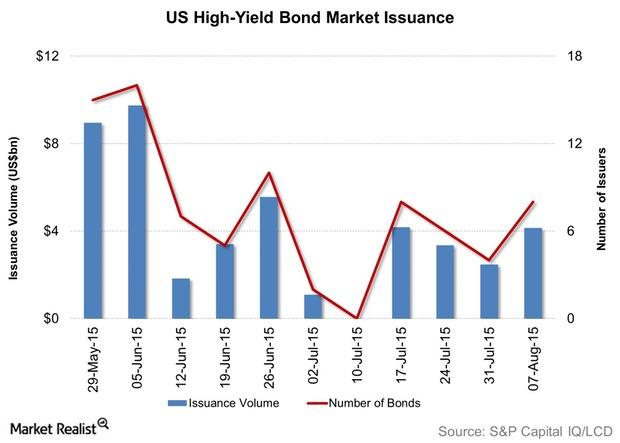 High-Yield Bond Issuers Return to the Primary Market
Deals and flows analysis in the high-yield bond markets
High-yield bond issuance rose in the week ending August 7, 2015, to the most in three weeks, as market conditions improved. High-yield debt is tracked by the SPDR Barclays High Yield Bond ETF (JNK) and the iShares iBoxx $ High Yield Corporate Bond ETF (HYG).
According to data from S&P Capital IQ/LCD, dollar-denominated high-yield debt amounting to $4.135 billion was issued in the week ending August 7. This was 66.70% higher than the issuance volume worth $2.48 billion in the previous week. The number of transactions doubled from four in the previous week to eight last week.
Last week brought the total US dollar-denominated issuance of high-yield debt to $199.9 billion in 2015 YTD (year-to-date). This is lower by 5.20% compared to the same period in 2014.
Article continues below advertisement
Issuance split between refinancing and acquisitions
Refinancing deals had slowed down for the past five weeks. Yields ran up quite a bit. This made refinancing older debt less attractive for most of the issuers. However, of the eight deals that were priced last week, four were for refinancing. Deals for acquisitions formed the remainder of the four issuances last week.
The deal for refinancing was the biggest in terms of volume. First Data issued high-yield bonds worth $1.21 billion last week—the largest of the period.
Pharmaceutical Product Development, Vista Outdoor (VSTO), Anixter International (AXE)—for the acquisition of HD Supply Holdings' (HDS) power solutions business, Party City Holdco (PRTY), HealthSouth (HLS), and RSP Permian (RSPP) were among the other issuers of high-yield bonds last week.
We'll analyze these deals and pricing trends in detail in the next part of this series.