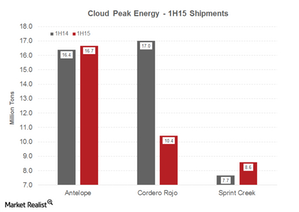 Cloud Peak Energy's 1H15 Results Affected by Lower Shipments
Shipments
Cloud Peak Energy shipped 35.7 million tons coal during the first half of 2015 against 41.0 million tons during the same period in 2014. The company started scaling down production at its Cordero Rojo Mine in the Powder River Basin (or PRB) last year. The production cuts, along with demand-side issues, weighed heavily on the company's shipments during the first half of 2015. Moreover, the company's 1H14 shipments were supported by the unusually cool winter last year, which widened the gap. The company's logistics segment reported deliveries of 3.1 million tons in 1H15 compared to 2.4 million tons in 1H14.
Article continues below advertisement
Revenues
Pricing in 1H15 fell marginally as competition from low natural gas prices kept coal prices under pressure. PRB coal spot prices fell below $10 per ton during the period. Since Cloud Peak Energy (CLD) locks in pricing through long-term contracts, pricing didn't fall as severely for the company. The company reported a price per ton of $12.92 in 1H15 compared to $13.05 in 1H14. Coal revenues came in at $468.1 million in 1H15 compared to $541.7 million in 1H14. Meanwhile, total revenues (including logistics) came in at $561.7 million versus $639.9 million in 1H15.
A difficult period
1H15 was difficult for all major coal producers, to say the least. The period saw coal producers' shares fall substantially. Metallurgical coal prices continued to fall during the period, pushing Walter Energy and Alpha Natural Resources (ANRZ) into bankruptcy. Thermal coal producers (KOL) like Peabody Energy (BTU) and Natural Resource Partners (NRP) felt the heat from persistently weak natural gas prices. Towards the end of the quarter, the Supreme Court handed a rare victory to coal producers by overturning the Mercury and Toxic Acids Standards (or MATS). However, the impact of the repeal is expected to be negligible.