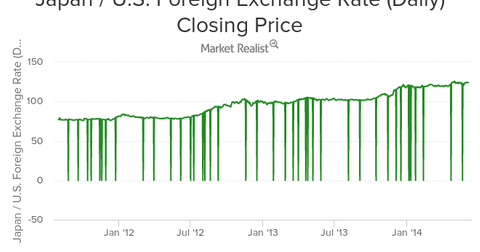 The Depreciating Yen Has Improved Japanese Profitability
By Heidi Richardson

Updated
Strong earnings momentum
As my colleagues and I write in Investment Directions, Japan's economy, while certainly not a locomotive, has managed to pull out of a shallow and brief recession, and it's beginning to show signs of benefiting from a weaker yen. This is helping Japanese companies continue to improve their profitability. Last year's conservative estimates and corporate governance reform are also helping to improve the earnings picture.
Article continues below advertisement
Improving return on equity (or ROE)
Japanese corporations are putting more emphasis on shareholder value and are increasingly returning cash to shareholders in the form of dividends and share repurchases. As of July 12, ROE in Japan was up 30 percent from 2012, according to Bloomberg data. Looking forward, as Japanese companies can potentially continue to improve their profitability, ROE may increase further this year and next.
[marketrealist-chart id=560325]
Market Realist – Japanese profitability has improved as a weaker yen makes Japanese exports attractive.
As the graph above shows, the Japanese yen has been depreciating against the US dollar (UUP) since late 2012. This is mainly because of unprecedented monetary easing. The yen has depreciated close to 40% since Shinzo Abe became the Prime Minister of Japan for the second time. Japanese stocks (DXJ) are up by ~70% in local currency since late 2012.
Because Japan is an export-oriented economy, a weaker yen is a boon, as it makes Japanese exports attractive to the foreigners. Also, international sales converted back to a weak yen translate to more yen revenue, adding to the bottom line. Major exporters like Toyota (TM) have seen a major boost in their earnings due to the depreciation in the yen. Toyota's total return was 21.2% for 2014.
The second graph shows the ROE on the MSCI Japan index (EWJ). ROE is one of the ratios used to gauge the profitability of a stock or index. As you can see, the profitability of Japanese stocks has improved since late 2012, from ~4% to above 8%.
However, profitability hasn't hit the highs of the pre-crisis period yet. Also, profitability is slightly lower compared with American stocks (IVV).