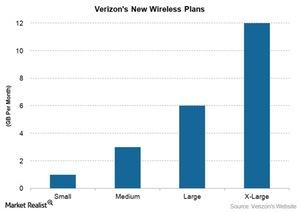 What Customers Can Expect from the Verizon Plan
By Ray Sheffer

Updated
The Verizon Plan
In Part 1 of this series, we learned that Verizon (VZ) recently moved to a no-subsidy plan for its new customers.
In speaking about the Verizon Plan, David Small, Verizon Wireless's COO, said, "We think we certainly have some ability to lessen the complexity in the wireless industry and we are going to take a leadership position to do that." Small made these remarks at the Oppenheimer 18th Annual Technology, Internet & Communications Conference held on August 11, 2015.
Article continues below advertisement
Data pricing in the Verizon Plan
The Verizon Plan has four shareable data offerings—small, medium, large, and x-large. With the plan's small option, customers get 1 GB (gigabyte) of data for $30 per month. The medium option gives you 3 GB for $45. Large gets you 6 GB for $60 per month, and the x-large option offers 12 GB for $80 per month. For each 1 GB of data used over and above the amount specified by your plan, you'll have to pay another $15.
The data in each plan may be shared among a maximum of ten devices. And there are monthly access charges for different devices on the plan.
The Verizon Plan also caters to wireless customers that require a lot of data. Shareable monthly data options start at 20 GB for $120 and rise to 100 GB for $750.
Besides the data allowance, the plan gives customers unlimited texting and calling.
You may get diversified exposure to Verizon by investing in the iShares U.S. Telecommunications ETF (IYZ). This ETF invested ~10.4% of its portfolio in the carrier as of July 31, 2015. Combined, AT&T (T), T-Mobile (TMUS), and Sprint (S) made up ~21.4% of IYZ on the same date.