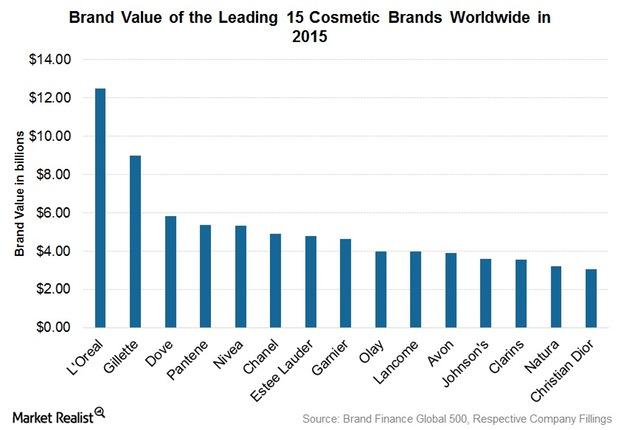 Assessing Estée Lauder's Strengths and Opportunities
Estée Lauder's large geographical presence
Estée Lauder (EL) is a leading international beauty and cosmetics producer. The company's large geographical footprint diversifies its revenue stream, which is one of EL's chief strengths. On the other hand, the US dollar appreciating versus most currencies in recent quarters has affected EL's bottom line. EL operates in over 150 countries through various modes including direct presence, majority-owned joint ventures, and distribution agreements with local players.
Article continues below advertisement
Strong brand position
EL has a strong brand portfolio that is well positioned to participate in the revival of consumer spending. For example, according to the Brand Finance Global 500 report cited in Statista, EL was ranked seventh in the top 15 cosmetics brands worldwide in 2015. Its brand value was reported at $4.8 billion.
Peers such as Olay (PG), Avon (AVP), and Johnson & Johnson (JNJ) had their brand values come in at $4.0 billion, $3.9 billion, and $3.6 billion, respectively, according to the Brand Finance Global 500 report.
EL's in-house research and development facilitates high consumer acceptance and quick market penetration. The company's research and development expenditure totaled $0.2 billion in fiscal 2014[1. Year ending June 30, 2014].
Growing beauty products in emerging markets
An increase in disposable incomes and the influence of Western culture has led to a rise in the demand for beauty products in emerging markets. EL aims to accelerate growth in emerging markets such as China, the Middle East, Eastern Europe, Brazil, and South Africa. The company is also focusing on consumers who purchase in the travel retail channel, including stores at travel destinations and ports of arrival.
Potential opportunities in men's grooming business
Men are spending more on grooming, yet cosmetics companies have not tapped into this market's potential. The men's personal and grooming care category offers great potential fast growth opportunities worldwide. Lab Series is one of EL's skincare brands exclusively for men. It offers a full range of products used to address the unique needs of men's skin.
Also, the growing popularity of online retail channels and social networking media offers huge growth opportunities. By increasing its digital presence in international markets, EL aims to grow sales of products sold online.
EL has exposure in the iShares S&P 500 Growth ETF (IVW) with 0.1%[2. Updated July 24, 2015] of the total weight of the portfolio.