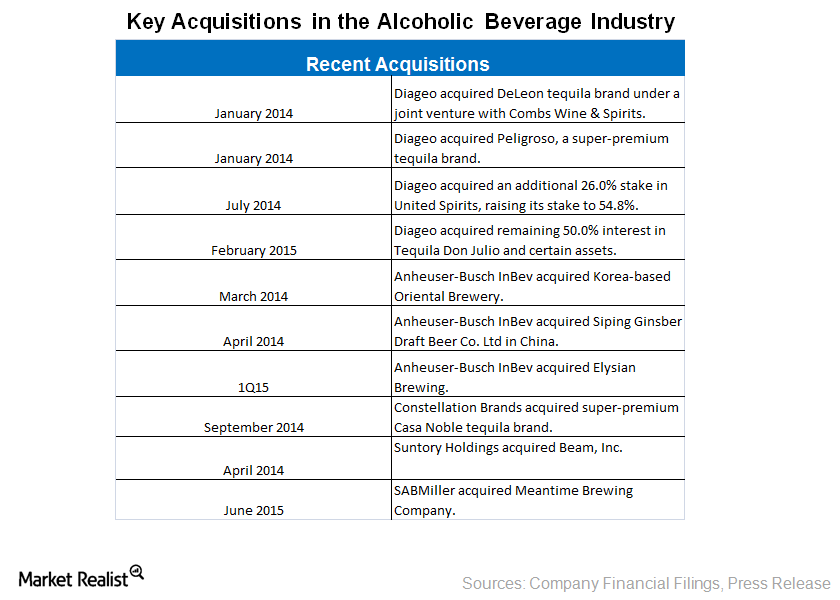 Will Recent Acquisitions Bring More Power to Diageo?
Inorganic growth strategy
One of Diageo's (DEO) key growth strategies has been to make acquisitions in high-growth markets as well as product categories. In February 2015, Diageo acquired the remaining 50.0% stake in Don Julio tequila from Jose Cuervo in exchange for Bushmills Irish Whiskey. Through this acquisition, the company further expanded in the more profitable ultra-premium tequila category.
In January 2014, Diageo acquired Peligroso, a super-premium tequila brand. The company also entered into a joint venture with Combs Wine & Spirits to acquire the popular tequila brand DeLeon.
In September 2014, rival Constellation Brands (STZ) acquired Casa Noble, a super-premium tequila brand.
Article continues below advertisement
Other acquisitions
In April 2015, Diageo announced the acquisition of the remaining 50% interest in United National Breweries, the leading sorghum beer business in South Africa. This acquisition is expected to be completed in the current fiscal year. In July 2014, Diageo acquired an additional 26% stake in United Spirits, the leading player in the Indian spirits market. With this acquisition, Diageo has ~54.8% interest in United Spirits. Both India and South Africa are key growth regions for Diageo.
In the first nine months of fiscal 2015 ending March 31, 2015, Diageo's acquisitions, mainly United Spirits Limited, contributed 700 million pounds in revenue.
Acquisitions by peers
In April 2014, Japan's leading beverage company Suntory Holdings (STBFY) acquired Beam, Inc., producer of the popular Jim Beam bourbon whiskey brand. The new company, named Suntory Beam, has emerged as the world's third-largest spirits company. Leading beer producer Anheuser-Busch InBev's (BUD) recent acquisitions include China-based Siping Ginsber, Korea-based Oriental Brewery, and Elysian Brewing.
The alcoholic beverage industry, particularly the beer industry, has seen some major consolidation over the past decade. The consolidation in the beer industry also stemmed from the rising popularity of craft beer, which is brewed by small, independent brewers, as well as traditional brewers. As we discussed in the first part of this series, Diageo was the subject of a takeover rumor in early June.
Diageo and Anheuser-Busch InBev together make up ~1.4% of the portfolio holdings of the Vanguard FTSE All-World ex-US ETF (VEU). Beverage companies, including Constellation Brands, account for ~19.9% of the Consumer Staples Select Sector SPDR Fund (XLP).
For more updates, please visit our Consumer and Retail page.