What Does UPS's Supply Chain & Freight Segment Do?
UPS has addressed complex supply chain issues such as transportation, distribution, and international trade and brokerage services by offering a variety of services.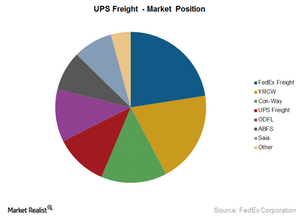 Overview
United Parcel Service's (UPS) Supply Chain & Freight segment (UPS) consists of an array of forwarding and logistics services, including UPS Freight. It also provides financial offerings through its UPS Capital business. UPS offers supply chain services in more than 195 countries.
As you can see in the above graph, United Parcel Service (UPS) has the fourth highest market share. It shares this position with Old Dominion Freight Line (ODFL). As of 2014, both have a market share of 8%. FedEx Freight (FDX) enjoys the highest market share among its competitors with 16% market share. YRC Worldwide (YRCW) captures the next highest share with a 14% market share. The third position is held by Con-way (CNW) with a 10% market share. Fifth place is shared by ArcBest (ABFS) and Saia LTL Freight (SAIA) with a 6% market share each. UPS forms 3.59% holding of the Industrial Select Sector SPDR (XLI).
UPS has addressed complex supply chain issues such as transportation, distribution, and international trade and brokerage services by offering the following services:
Article continues below advertisement
Article continues below advertisement
freight forwarding – UPS is one of the largest domestic and international air freight carriers. It provides guaranteed and non-guaranteed global air freight services. It also provides ocean freight full-container load and less-than-container load transportation services between most major ports around the world.
customs brokerage – UPS is among the world's largest custom brokers. It provides customs clearance, trade management, and international trade consulting services.
logistics and distribution – UPS provides logistics services such as distribution services, supply chain services, post sales services, UPS Mail Innovations for lightweight parcels and flat mail, and UPS Express Critical for urgent transportation needs.
freight – UPS provides reliable, day-definite, regional, interregional, and long-haul LTL (less-than-truckload) services and full truckload services in all 50 states.
capital – UPS provides insurance, financing, and payment services to companies to protect them from risk, improve cash flow, and accelerate and protect payments.
Expansion
In 2014, UPS expanded its supply chain network by more than 2 million square feet. Of this, 1.5 million square feet was in North America. Other key expansion markets include China, Brazil, the Netherlands, and Chile.
Part of this expansion also includes developing the company's healthcare service offering by creating a healthcare compliant network. This includes 36 Field Stocking Locations that help companies quickly send medical devices to hospitals and thus better manage regulatory compliance and inventory costs.
UPS is also expanding its healthcare logistics in fast-growing European markets. It acquired two healthcare logistics companies in Europe. The first was Polar Speed Distribution Limited in the United Kingdom. This company specializes in refrigerated ground transportation of temperature-sensitive medicines and medical devices. The second was Poland-based Poltraf Sp. z o.o., which provides healthcare logistics services in Central and Eastern Europe. The Poltraf acquisition is expected to be completed in 2015.