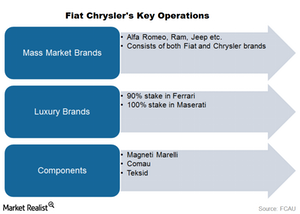 Understanding Fiat Chrysler's Key Operations
Fiat Chrysler's key operations
In the previous part of this series, we saw how Fiat Chrysler Automobiles N.V. (FCAU) took shape. In this part, we'll look at Fiat Chrysler's key operations. Fiat operates mass-market car brands as well as luxury brands like Ferrari and Maserati. Ford (F), General Motors (GM), and Toyota Motor (TM) are other leading mass-market car manufacturers.
Article continues below advertisement
Article continues below advertisement
Group structure
The above chart shows Fiat Chrysler's operating segments. The segments include Mass-Market Brands, Luxury Brands, and Components. The main brands in the Mass-Market segment are Alfa Romeo, Chrysler, Dodge, Jeep, and Ram. The Luxury Brands segment is made up of luxury brands Ferrari and Maserati. FCAU holds a 90% stake in Ferrari and a 100% stake in Maserati.
Components segment
Fiat Chrysler's Components segment includes component manufacturing operations that are spread across three groups: Magneti Marelli, Comau, and Teksid. Magneti Marelli and Comau are fully owned Fiat Chrysler subsidiaries. Fiat Chrysler holds an 84.8% stake in Teksid.
Teksid produces engine components, gearboxes, suspensions, cylinder heads, and transmission parts. It's the world's largest producer of gray and nodular iron castings. Comau is a leading provider of sustainable automation and service solutions.
Magneti Marelli is a leading international supplier of auto parts. It produces components ranging from electronics to suspension systems. Earlier this year, Magneti Marelli formed a joint venture in India (EPI) to produce engine control systems for two-wheelers.
Fiat Chrysler's business operations are spread across several regions. In the next part, we'll look at the geographical breakup of Fiat's operations.