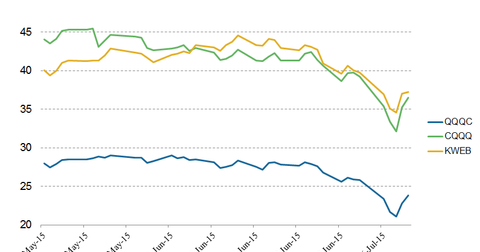 Stock Markets in China See the Largest Fall since 1992
By Adam Rogers

Updated
Overview
In the last 12 months, China was one of the global market leaders that generated high stock market returns due to continuous ease in the country's policy as well as positive investor sentiment. However, since June 2015, stock markets in China have seen a downward spiral. This was due to concerns over the longevity of the stimulus. It was driven by a market rally and the overall health of the economy.
The majority of analysts consider the stock to be overvalued. This creates panic among investors who are now selling stocks to recover or minimize losses.
Article continues below advertisement
Stock market crash
There are many factors that can be outlined to explain the stock market crash in China. More than 40% of firms prohibited share trading. This locked up shares worth $2.6 trillion. It was the largest wave of trading halts in the country's stock market history. China is the world's second largest economy. It's experiencing its lowest growth in the last six years due to macroeconomic factors like weak domestic demand, low industrial production, the credit crunch, and the fall in real estate and property.
In addition, firms' quarterly results have seen profits fall compared to the last few years. The Chinese government has focused on interest rate cuts. It directed the purchase of stocks by state-directed mutual funds and other financial institutions to expand investor confidence. However, these measures aren't generating the expected results. The markets seem to be in a perpetual fall.
Tech ETFs
The performance of three Chinese technological ETFs including the Global X NASDAQ China Technology (QQQC), the KraneShares CSI China Internet (KWEB), and the Guggenheim China Technology (CQQQ) fell by 21.84%, 16.46%, and 28.58%, respectively, in the last 30 days.
QQQC has 39 stocks listed in various subsectors. The top five holdings include NetEase (NTES) at 8.45%, Tencent Holdings (TCTZF) at 7.81%, Qihoo 360 Technology (QIHU) at 6.80%, Lenovo Group (LNVGF) at 6.15%, and Alibaba Health Information Technology (ALBHF) at 5.80%. They account for over 35% of the ETF's total portfolio.
Baidu (BIDU) accounts for 2.80% of QQQC. It's also part of the Power Shares ETF (QQQ).