Risks for GlaxoSmithKline
GSK operates in over 170 countries and is subject to political, socioeconomic, and financial factors and risks across the globe.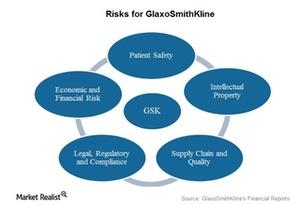 Risks
GlaxoSmithKline (GSK) faces the following risks in addition to specific risks of the pharmaceutical industry.
Article continues below advertisement
Article continues below advertisement
Patient safety
In its 2015 20-F filing with the SEC, GlaxoSmithKline notes, "Pre-clinical and clinical trials are conducted during the development of investigational Pharmaceutical, Vaccine, and Consumer Healthcare Products to determine the safety and efficacy of the products for use by humans."
However, at times, some unanticipated side effects become evident only once these products are widely introduced in the marketplace. The company is currently a defendant in a variety of product liability lawsuits, including class actions that involve significant claims for damages related to its products.
Intellectual property
GlaxoSmithKline deals with innovative products in all segments, and any failure in securing and protecting its intellectual property rights may lead to huge losses. Obtaining the necessary patents and proprietary rights with respect to its products is critical for the company's business strategy and profitability, as well as to the potential success of a product.
Article continues below advertisement
Supply chain and quality
The failure to comply with current Good Manufacturing Practice (or cGMP) for any of the following factors may have major implications on patient and consumer safety:
In-house manufacturing processes
Distribution channels
Contract manufacturing
Suppliers of raw materials
Inadequate quality checks
These factors may also affect the launch of new products, a shortage in supply of current products, and product recalls due to quality issues. All these issues attract regulatory, legal, and financial consequences that could materially and adversely affect the reputation and financial performance of the company.
Legal, regulatory, and compliance
GlaxoSmithKline works to comply with all applicable laws, rules, and regulations, as any failure to comply may result in civil or criminal legal proceedings and regulatory sanctions. These proceedings not only cost the company monetarily, but they also affect the reputation of its brand—and most importantly, the well-being of the consumers the company serves.
Economic and financial risks
GlaxoSmithKline operates in over 170 countries and is subject to political, socioeconomic, and financial factors in individual countries as well as globally. The company faces the adverse impact of a sustained economic downturn. Fluctuations in foreign exchange rates and limited third-party insurance coverage also present financial risks.
Big pharma companies like Merck (MRK), Pfizer (PFE), and Sanofi (SNY) generally face similar risks. The Health Care Select Sector SPDR ETF (XLV) is focused on large pharmaceutical and healthcare companies.