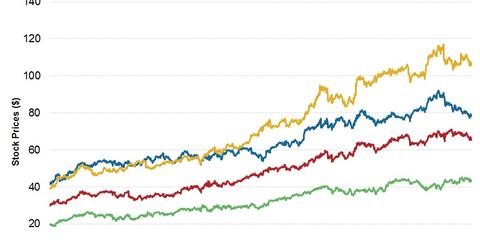 Porter's Five Forces: Procter & Gamble's Competitive Position
By Penny Morgan

Jul. 8 2015, Published 2:21 p.m. ET
Competitive analysis
The Procter & Gamble Company, or P&G (PG), is the largest manufacturer and seller of household products in the world. Olay, Pantene, Head & Shoulders, Gillette, and Pampers are some of its major brands. Given that the consumer staples (XLP) sector is highly competitive, P&G faces local as well global competition from various players worldwide.
[marketrealist-chart id=505804]
Article continues below advertisement
Porter's five forces
In examining Porter's five competitive forces at work at P&G, we find that three are horizontal in nature:
competitive intensity among rivals
new entrants to P&G's product categories
ease of product substitution
and two are vertical:
customer bargaining power
supplier bargaining power
Horizontal forces
P&G offers a wide range of products, and so it's hard for a new company to compete with a similar product portfolio. Peers Unilever (UL) and Estee Lauder (EL) invest large amounts of capital on comprehensive research for their beauty brands. Using this research, the companies develop complete marketing strategies to promote particular products as special and distinct. In this way, UL and EL are able to compete with P&G in specific areas of the company's giant portfolio.
P&G's focus has always been on quality and innovation. Many local and international brands, including Colgate-Palmolive (CL), offer substitutes, such as Colgate, for Oral-B.
Article continues below advertisement
Connect and develop
In 2001, P&G adopted a collaborative innovation strategy called "Connect and Develop." The idea was and is to allow P&G to identify and create worldwide partnerships with universities and institutes, sole inventors, emerging companies, small and medium enterprises, multinational corporations, and competitors. Through these partnerships, P&G develops a better understanding of consumer demands and their product responses.
For example, the P&G and CircleUp partnership was created to mutually benefit both P&G and startup firms. P&G gains exposure to new technology that might match its innovation needs. At the same time, startups gain valuable funding to pursue new technological developments.
Vertical forces
Due to the massive scope of P&G's business, it relies on relationships with third parties to perform certain functions—suppliers, distributors, contractors, joint venture partners, or external business partners, among others.
P&G maintains standard pricing with its suppliers. As a large customer, it enjoys significant bargaining power with its suppliers. Still, it should be noted that even P&G isn't immune from broader market movements related to commodity prices.
Article continues below advertisement
Bargaining power
Consumer staple products typically have low demand elasticity. But the fast-moving consumer goods, or FMCG, industry is also subject to stiff competition, which tends to mitigate this fact.
Consumers can be price-sensitive, and it's easy to switch between products, which tends to reduce P&G's bargaining power. That said, prices are relatively more inelastic for products such as Gillette, Pampers, and Olay, where P&G is the market leader.
According to a Reuters report published June 24, Walmart (WMT), P&G's biggest customer, wants to charge a fee to all vendors for stocking and warehousing, which would put pressure on suppliers. This warehousing fee would help Walmart fund the costs of growing its store footprint and other parts of the supply chain, while keeping product prices low. The is likely to have a significant impact, as lower product prices might affect the profitability of P&G and other suppliers.
Major ETFs that hold P&G in their portfolios include the SPDR S&P 500 ETF Trust (SPY) and the iShares Core High Dividend ETF (HDV), with 1.2% and 5.2%[1. All ETF portfolio weights are as of June 27, 2015] of their respective portfolios invested in P&G.