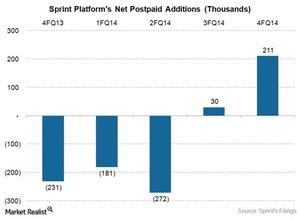 Why Do We Need to Analyze Sprint Promotions?
Sprint starts to gain customers
Earlier in this series, we learned about Sprint's recently launched All-In Wireless plan and the company's sensitivity to consumer demand. The wireless carrier reversed its 600 Kbps speed limit on video streaming in its All-In Wireless plan, the same day the plan was launched.
In the saturated, competitive US wireless space, wireless carriers cannot afford to overlook consumer sentiment. However, this affects Sprint more than other wireless carriers, considering the customer losses it shouldered until the end of fiscal 2Q14.
Sprint was losing the sought-after postpaid connections to other wireless carriers before fiscal 3Q14. This was due in large part to quality issues with its network. While upgrading its network, the company was not able to consistently provide even basic voice services to its customers.
However, this situation improved after Sprint CEO Marcelo Claure joined the company. As you can see in the above chart, Sprint added ~30,000 postpaid connections during fiscal 3Q14 and ~211,000 postpaid connections in fiscal 4Q14.
Article continues below advertisement
Article continues below advertisement
Sprint's price-centric customer acquisition strategy
Sprint's promotional effort has largely been on the pricing side. Sprint ramped up its promotional activities to attract new customers in fiscal 3Q14. The carrier launched a series of plans to attract cost-sensitive customers away from other wireless carriers.
These plans included the iPhone for Life plan, which we discussed in the previous part. Sprint also included its Cut Your Bill in Half Event. Sprint's promotion targeted Verizon's (VZ) and AT&T's (T) wireless customers. These plans may have helped Sprint move to positive net customer additions. However, future customer additions may be negatively affected by any significant changes in Sprint's pricing strategy.
You may take a diversified exposure to Sprint by investing in the iShares Russell 3000 ETF (IWV). This ETF held ~0.01% in the wireless telecom company on June 30, 2015. Alternatively, you may consider investing in the iShares Russell 1000 ETF (IWB), which held ~0.02% in Sprint on the same date.