Key Strengths that Keep UPS ahead of Its Peers
Some of UPS's key strengths that keep it ahead of its competitors include an integrated global network, leading-edge technology, a strong brand name, a strong culture, and impressive financials.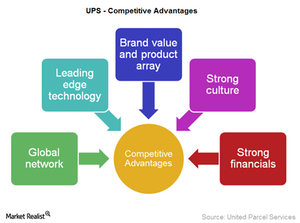 Competitive advantages
United Parcel Service (UPS) has successfully established itself as the most admired mail, package, and freight delivery company in the world. In this part of the series, we'll look at some of UPS's key strengths that keep it ahead of its competitors.
Article continues below advertisement
Article continues below advertisement
Huge integrated global network
UPS has the most extensive integrated global ground and air network in the industry. It provides its services in 200 countries and territories. This makes it the world's largest package delivery company in terms of both revenue and volume. Its network handles all levels of service, including air, ground, domestic, international, commercial, and residential, through a single pickup and delivery service system.
Leading-edge technology
UPS develops technologies that optimize shipping and logistics business processes for its customers. This also helps lower costs, improve service, and increase efficiency. UPS's leading-edge technology not only helps the company serve its customers better, but it also helps optimize the use of the company's network and assets in an efficient manner.
Article continues below advertisement
Broad product array and strong brand name
UPS offers a complete array of products and services to its customers. Customers can choose delivery options according to their requirements. In addition to providing package delivery services, UPS also provides special supply chain services. It helps customers integrate these services with package delivery.
The company has a strong brand value in the market. It stands for quality service, reliability, and product innovation. This is because the company has consistently made efforts to build and maintain long-term customer relationships.
Strong culture
UPS's biggest asset is its employees. The company has successfully maintained a strong culture within its organization. UPS follows an employee-owner concept in which the company offers stock to employees through various stock-based compensation programs.
Impressive financials
UPS has a very strong balance sheet. The company has built a strong asset base and maintains consistency in its free cash flow growth. This enables it to operate successfully on a large global scale and invest in technology, transportation equipment, and facilities to pursue strategic opportunities and return value to its share owners in the form of dividends and share repurchases.
UPS forms 3.59% of the Industrial Select Sector SPDR ETF (XLI). Rival FedEx (FDX) forms 2.53% of XLI. Other logistics providers included in the ETF are C.H. Robinson Worldwide (CHRW) and Expeditors International (EXPD), which form 0.47% and 0.46%, respectively.