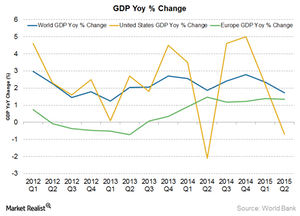 Why Is Economic Growth Important for the Courier Service Industry?
By Ally Schmidt

Jul. 23 2015, Updated 10:05 a.m. ET
Economic growth
The global courier service delivery industry generates revenues of about $220 billion with the US being the largest market followed by growing markets such as China, India, Europe, and Latin America.
Over the past few years, the global courier services industry has managed to recover from the global economic slowdown. The global economic slowdown caused the total world trade and global consumer spending to decline in 2009, as the largest economies in the world went into recession. Consequently, demand for the transportation of packages and parcels diminished, causing industry revenue to plummet in 2009.
Article continues below advertisement
Global growth slows due to weakness
The first half of the year has seen many international economies struggle to keep pace with their forecasts. The slowdown in growth in the US, a sharp fall in Chinese stock markets, and the rising worries of a Greece recession along with other factors have contributed to global growth falling short of the first quarter projections. The annual projections for global economic growth have thus been cut from 3.5% to 3.3% for 2015.
European markets remain volatile
Greece's default to the IMF (or International Monetary Fund) could possibly lead to its exit from the Eurozone. While Greek bankruptcy could make global markets volatile, the remaining countries in the zone remain strong. The growth rates for Spain and Italy have risen, while Germany and France remain on track.
Article continues below advertisement
China remains strong aside from turbulence in the stock market
The Chinese stock market saw a strong bull run followed by a stock sell-off, but the growth projections for the economy are expected to remain unaffected. However, the transformation towards a consumption base is expected to slow down the growth in the long term.
US and Canada to grow slower
The forecasts for 2015 for both the US and Canada were pulled down due to weaker performances in the first quarters. However, the problems are expected to be temporary and both these countries are expected to be back on track next year.
Led by the US, North America is the largest market for express delivery services, but Asia, Europe, and Latin America are being targeted for industry growth. China and India are seen as especially promising markets because of their rapidly emerging consumer classes.
As the economy rebounds, world trade will pick up, which will be positive for the courier services providers like FedEx (FDX) and United Parcel Services (UPS), as well as logistics providers like Expeditors International (EXPD) and C.H. Robinson Worldwide (CHRW). FDX makes up 2.53% of the Industrial Select Sector SPDR (XLI).