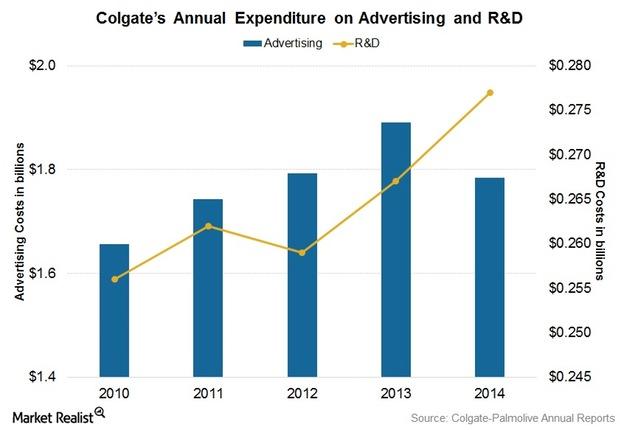 Colgate Has the Highest Brand Penetration in the World
Colgate's marketing strategies
Colgate (CL) has the highest brand penetration in the world. At a brand penetration rate of 64.6%, Colgate reaches more than half the households in the world, more than even Coca-Cola (KO), with a brand penetration rate of 43.3%[1. Source: Kantar World Panel, Global Footprint report].
In 2014, Colgate spent ~$0.3 billion on research and development (or R&D) and ~$1.7 billion on advertising.
Article continues below advertisement
Expert strategies for brand penetration
Colgate's first advertisement appeared in a New York newspaper in 1817. Initially, Colgate introduced toothpaste in jars. After 1896, it introduced toothpaste in collapsible tubes, which proved to be a great move to innovate and enhance its brand.
In 1911, Colgate introduced its first health promotional campaign by distributing 2 million tubes of toothpaste and toothbrushes to schools for oral health education.
Digital campaigns
Colgate's attractive digital advertising and e-commerce efforts help in building brand awareness and loyalty in the global market.
For example, in Latin America, the Protex soap bar was launched with a fully integrated marketing campaign, including a product website and an endorsement from a well known journalist.
Colgate-Palmolive, along with Apple (APPL), developed an interesting application for iPhone users called the Colgate MaxWhite Photo. This application is used to whiten smiles in photographs.
According to the Kantar World Panel's Global Footprint report, Colgate has a brand penetration of over 80% in India.
Colgate has also been increasing market share at the expense of peers Procter & Gamble's (PG) Oral-B and Crest, and Unilever's (UL) Pepsodent and Close-up. To learn more about Colgate's rising market share in India, read Who's Who of the World's Most Popular FMCG Brands.
Colgate-Palmolive also extends great support to women and kids. It organized the Colgate Women's Games, the largest US amateur track series for girls and young women. With the help of this program, Colgate helps in promoting health, wellbeing, and academic success for women. Colgate's Bright Smiles, Bright Futures program reaches more than 800 million children in 80 countries to provide free dental screenings as well as education.
CL and Clorox (CLX) have exposure in the SPDR S&P 500 ETF (SPY) with weights of 0.3% and 0.1%[2. Updated as on July 10, 2015], respectively.