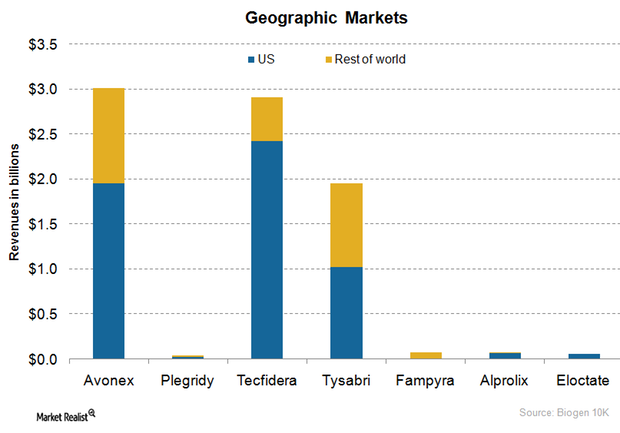 Biogen's Geographic Market Strategy
Geographic markets
In 2014, Biogen (BIIB) earned about 27% of its total revenues from international markets such as Canada, Europe, and emerging economies. With significant overseas revenues, the company is exposed to currency fluctuations.
The above graph shows that Biogen's international sales are mainly composed of the company's multiple sclerosis (or MS) drugs: Avonex, Plegridy, Tecfidera, Tysabri, and Fampyra.
Article continues below advertisement
Article continues below advertisement
Avonex and Plegridy
Demand for Avonex has suffered both in the US and in Europe, as patients have switched to Plegridy and the oral drug Tecfidera. Plegridy is preferred for being a longer-lasting version of Avonex, which has to be injected only once every two weeks. Avonex must be injected to MS patients once a week.
Avonex is expected to focus more on emerging economies such as Brazil and India, as there is a strong demand for the drug in these countries.
Tecfidera
Biogen received patent protection for its drug Tecfidera in the European market, which will be effective until 2028. However, the company delayed the drug launch because it wanted to obtain a new active substance (or NAS) designation for Tecfidera from the European Medicines Agency (or EMA). EMA is the drug regulatory body in Europe.
NAS designation would ensure regulatory protection for the drug's clinical data. This will further protect Tecfidera from patent challenges for ten years, as the authority can restrict the sale of any other drug formulation containing the active substance.
Although Tecfidera has been launched in Europe, it continues to face pressures from price regulating bodies such as the UK's National Institute for Health and Care Excellence (or NICE) and Germany's Institute for Quality and Efficiency in Healthcare (or IQWiG).
Article continues below advertisement
Biogen has entered the UK market under a patient access arrangement, where the company has offered a reduced price in the market. As the drug continues to negotiate through the markets in Europe, it is expected to offer tough competition to the already present oral MS drugs, Novartis's (NVS) Gilenya and Sanofi's (SNY) Aubagio.
Tysabri
Tysabri has suffered market erosion both in the US and in Europe, as MS patients have switched to Biogen's oral drug Tecfidera. However, the drug can be used to treat moderate to severe Crohn's disease if the patient does not respond to other therapies.
According to WebMD, "Crohn's disease is a lifelong inflammatory bowel disease (or IBD). Parts of the digestive system get swollen and have deep sores called ulcers." Biogen's Tysabri, Abbvie's (ABBV) Humira, and Centocor's Simponi are few of the new biotechnology drugs that are expected to capture the Crohn's market.
Investors can invest in the iShares NASDAQ Biotechnology ETF (IBB) and get diversified exposure to Biogen. Biogen accounts for 7.48% of IBB's total holdings.