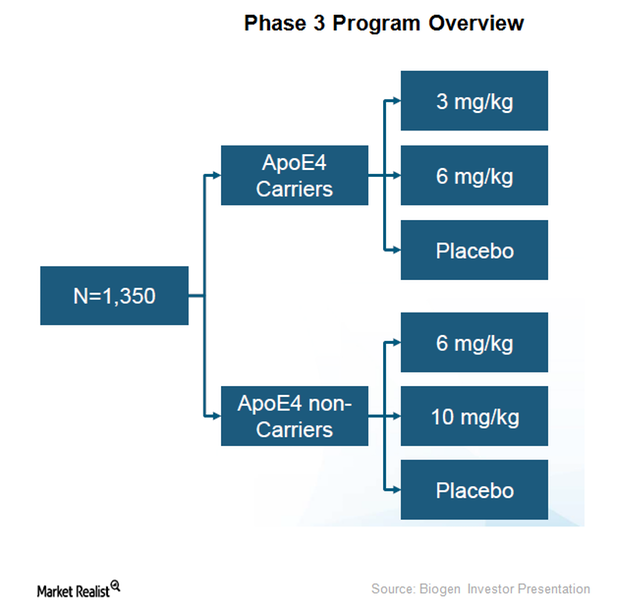 Biogen's Experimental Alzheimer Therapy: Limited 2Q15 Success
Alzheimer Therapy
On July 22, 2015, Biogen (BIIB) released data from a Phase 1b study, also called the PRIME Study, that looked at the effectiveness of its investigational Alzheimer's drug, BIIB037. Following the release of results, Biogen's share price fell by 4.3% to $391.70, down from $409.50 on July 21, 2015. To learn more about the PRIME Study, please refer to Biogen Presents Data from PRIME Study of Its Alzheimer's Therapy.
Article continues below advertisement
The above graph shows the program design of BIIB037's phase 3 study. The company has currently initiated the process of screening 1,350 patients for this program. Two identical studies for the drug, called ENGAGE and EMERGE, will be conducted at over 300 sites under phase 3 clinical trials of BIIB037. The study involves patients suffering early Alzheimer disease.
The effectiveness of the medication will be tested using the clinical dementia rating sum of boxes, or CDR-SB, scale. According to the Alzheimer's Disease Research Center at Washington University in St. Louis, "The Clinical Dementia Rating or CDR was developed at the Memory and Aging Project at Washington University School of Medicine in 1979 for the evaluation of staging severity of dementia. It was developed primarily for use in persons with dementia of the Alzheimer type (the equivalent of probable Alzheimer's Disease) and it can also be used to stage dementia in other illnesses as well."
Phase 1b Study Results
Biogen released promising interim results from the Phase 1b study of BIIB037 in March 2015. However, the July 2015 results were less impressive than expected. In a Phase 1b study, patients were administered dosages of 1 mg, 3 mg, 6 mg, and 10 mg of the Alzheimer medicine. Investors were disappointed with the results, as BIIB037's dosage of 6 milligrams per kilogram of patient weight proved to be less effective than expected. To learn more about the market response to Alzheimer results, please refer to Market Response to Biogen's and Eli Lilly's Alzheimer's Drugs.
Eisai Collaboration
In addition to BIIB037, Biogen has entered into collaboration with Eisai to develop the Alzheimer drugs BAN2401 and E2609, which are currently in phase 2 clinical trials. Clinical results for both the drugs are expected in 2016.
The Alzheimer's market is estimated to be worth $20 billion. Currently, there are no medications that can cure the disease. Medications currently available in the market, including Allergan's (AGN) Namenda, Pfizer's (PFE) Aricept, and Novartis's (NVS) Exelon, only help in reducing the severity of these Alzheimer's symptoms. Biogen's Alzheimer drugs, however, aim to cure the disease. So, if approved by the Food and Drug Administration (or FDA), these therapies can prove to be major breakthroughs for Biogen.
Investors can get exposure to Biogen's Alzheimer drug pipeline while reducing excessive risks associated with research failures by investing in the iShares NASDAQ Biotechnology ETF (IBB). IBB holds 7.48% in Biogen stock.