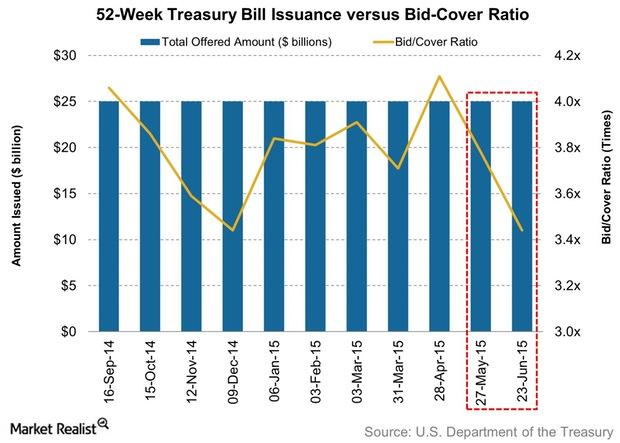 Bid-to-Cover Ratio Hits 2015 Low for 52-week Treasury Bills
By David Ashworth

Jul. 3 2015, Updated 10:06 a.m. ET
52-week Treasury bills auction
The US Treasury auctioned $25 billion worth of 52-week Treasury bills, or T-bills, (SHY) on June 23, 2015.
T-bills mature in a year or less. They're at the very short end of the yield curve. Other Treasury securities, such as Treasury notes (IEF), or T-notes, and Treasury bonds (TLT), or T-bonds, are issued for longer maturities. Exchange-traded funds such as the PIMCO Enhanced Short Maturity ETF (MINT) and the SPDR Barclays 1-3 Month T-Bill (BIL) have exposure to T-bills.
Article continues below advertisement
Key takeaways
The auction was held on June 23.
The auction size was set at $25 billion—unchanged over the last 18 auctions.
The issue's high discount rate was 0.290%—higher than 0.255% at the May 27 auction.
Coverage for 52-week Treasury bills
Overall demand for the 52-week Treasury bills tanked at the June auction for the second month in a row. The bid-to-cover ratio dived 9% to 3.4x month-over-month—its lowest level in 2015 so far. The ratio had averaged 4.2x at the auctions held in 2014. So far in 2015, the ratio has averaged 3.8x.
Like overall demand, market demand for the 52-week Treasury bills also fell from a month ago. The auction saw market demand fall to 35.1% of competitive accepted bids in June, down from 42.9% at the previous auction. The fall was due to both lower indirect and direct bids.
The indirect bidder category includes bids from overseas governments. Allotment to this category fell to 29.3% in June from 36.3% in May. Direct bids include bids from domestic money managers like Invesco (IVZ) and Wells Fargo (WFC). The percentage of direct bidder allotments fell to 5.9% in June, down from 6.5% at the May auction.
Due to the lower market demand, primary dealer bids were higher at 64.9% in June, up from 57.1% at the previous auction. Primary dealers include companies such as Credit Suisse (CS) and Goldman Sachs (GS).