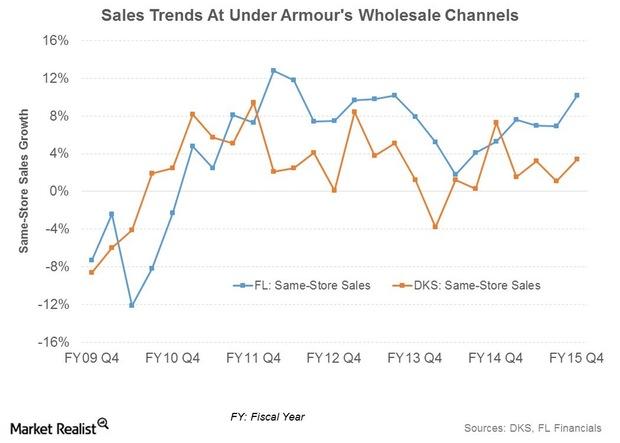 Under Armour: The ARMOURY and Its Wholesale Strategic Importance
Analyzing the performance of Under Armour's (UA) wholesale partners
Under Armour's performance is closely tied to that of its wholesale partners, including Foot Locker (FL) and Dick's Sporting Goods (DKS). The company derived ~67% of its sales, or $2.1 billion, from wholesale channels in 2014.
UA is Dick's Sporting Goods' second-largest supplier. UA's sales to the latter represented ~12% of the total merchandise purchases made by DKS in fiscal 2015.[1. The fiscal year for Dick's Sporting Goods ends January 31]
DKS's sales rose 8.8% year-over-year to ~$1.6 billion in 1Q16, with same-store sales rising 1%. Excluding results for Golf Galaxy, a challenged category, DKS's same-store sales rose by 1.8%.
Article continues below advertisement
Foot Locker's (FL) record results
Just five suppliers are responsible for 89% of Foot Locker's merchandise. In 1Q16, Foot Locker reported a record quarter. Revenue rose 2.6% to $1.9 billion. Same-store sales rose by 7.8%. Despite UA being a relatively smaller supplier to FL, the company reported strong sales for UA's first signature basketball shoe, the Curry One, named after 2014–15 NBA MVP, Stephen Curry.
The ARMOURY at Champs Sports
On June 24, Foot Locker announced the launch of a new store-within-a-store concept featuring Under Armour products. Called the ARMOURY, these concept stores will be located at Champs Sports, one of Foot Locker's specialty retail stores. There are ~540 Champs Sports outlets in the US, Canada, and Puerto Rico.
The ARMOURY stores will cater to the premium segment of the market. They'll also feature UA product exclusives and occasional visits from star athletes.
The first store opened in the Mall in Columbia, Maryland, on June 27. As the opening came quite late in the quarter, the launch of the ARMOURY is unlikely to significantly affect 2Q15 sales. It's unclear at present how many such stores are envisaged by the two companies.
Nike (NKE) has several store-within-a-store format agreements with Foot Locker. It's also the largest merchandise supplier to the specialty retailer. FL purchased about 73% of its athletic products from Nike in fiscal 2015.[2. The fiscal year for Foot Locker ends January 31]
More such stores and agreements with wholesale partners could boost future sales and margins for Under Armour.
The iShares Russell 1000 ETF (IWB) has 13.3% of its portfolio invested in the consumer discretionary sector.