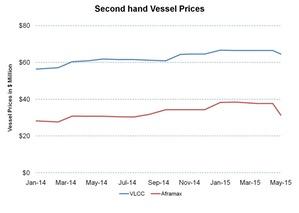 Secondhand Vessel Prices and Time Premium Fall
By Sue Goodridge

Updated
Secondhand vessel prices  
Secondhand vessel prices were stable between January and April 2015 but experienced a sudden drop in May. Secondhand vessel prices reflect the short- and medium-term outlook for the crude tanker industry. They are more reactive to the spot market shipping rates.
Article continues below advertisement
Sudden drop of prices in May
Five- and ten-year old VLCC (very large crude carrier) prices were $77.1 million and $52.1 million, respectively, in May 2015. In April 2015, those prices were $80.9 million and $52.1 million, respectively. The price for a five-year old vessel fell by almost 5% in a single month. Aframax five- and ten-year old prices have also fallen. In May, these cost $35.8 million and $26.8 million, respectively. This represents a respective drop of $9.4 million and $3.4 million from April's prices.
Time premium
We can also asses the industry outlook by looking at the time premium. The time premium is the ratio of secondhand vessel value to the current price. We've taken five-year old vessel value as a proxy for secondhand prices.
Assuming a vessel's life to be 25 years, a five-year old vessel would be worth 80% of a newbuild's price. If industry participants have a positive outlook on the industry, they'll pay a premium on the secondhand vessels just to obtain them immediately. On the other hand, if the outlook is negative, these assets would have less value.
In May 2015, the ratio was exactly 80%, which means the secondhand vessels were valued at par. Yet this ratio was down compared to the previous month. This indicates that the short-term outlook has weakened for companies including Frontline (FRO), Nordic American Tanker (NAT), Teekay Tankers (TNK), Navios Maritime Midstream (NAP), and Tsakos Energy Navigation (TNP). The same is true for the Guggenheim Shipping ETF (SEA).