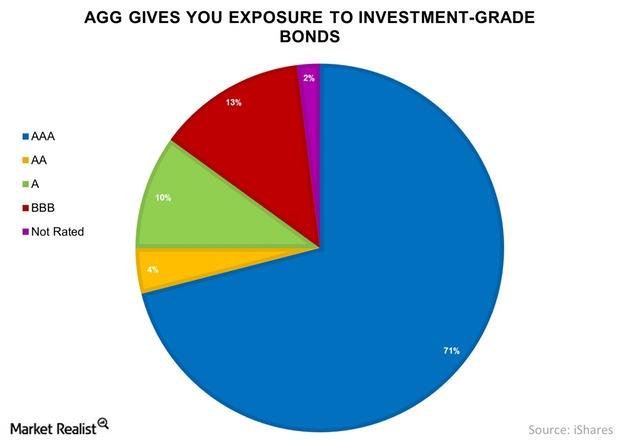 Why Your Portfolio Needs More Than Just Equities
By Matt Tucker, CFA

Dec. 4 2020, Updated 10:53 a.m. ET
As for what to hold in your 40% (or 30%, or whatever your fixed income allocation may be), the answer really depends on the role fixed income is playing in your portfolio.  If the goal is simply to balance the portfolio, then a diversified bond ETF such as the iShares Barclays Aggregate Bond Fund (AGG) could fit the bill.  AGG's index is designed to represent the total US investment grade bond market.  For aggressive investors young and old, there are some riskier sectors to be found in fixed income, such as high yield like the iShares iBoxx High Yield ETF (HYG) and emerging market bonds like the iShares JP Morgan USD Emerging Markets ETF (EMB). No matter what fixed income sector is the best fit for you, remember that diversification is an important part of portfolio strategy at any age.  And that's no myth.
Article continues below advertisement
Market Realist – Your portfolio needs more than just equities
You know your portfolio needs more than just equities. So what can complement equities in your portfolio? AGG gives you exposure to mostly investment-grade bonds, including a 32% exposure to Treasuries (TLT) (GOVT). It has a good exposure to both short- and long-dated bonds. It resembles a barbell bond portfolio with exposure to short- and long-dated bonds but nothing in between. As we saw in part one of this series, it has a low correlation with equities (IVV).
However, bond funds like HYG and EMB give you exposure to different kinds of risks. While HYG gives you exposure to credit risk within the United States, EMB gives you exposure to emerging market bonds.
It's also important to diversify within fixed income. For example, the correlation between high yield bonds and Treasuries tends to be low. However, how many high-yield bonds you own depends on your risk appetite.
Read Want Lower Risk? Try to Diversify for more on the need to diversify.