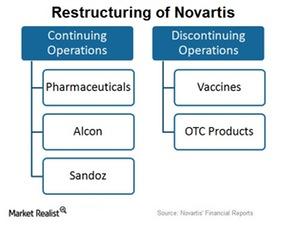 What's Novartis's New Structure?
Article continues below advertisement
About the restructuring
Novartis (NVS) has restructured its entire business into two parts: continuing operations and discontinuing operations. The continuing operations include three segments:
Pharmaceuticals: dealing with patented products
Alcon: dealing with eye care products
Sandoz: dealing with generic products
Its discontinued operations include animal health, vaccines, and OTC (over-the-counter) products.
Discontinuing operations and divestments
The animal health division was divested to Eli Lily (LLY) in January 2015 for approximately $5.4 billion.
The company also divested its vaccines business to GlaxoSmithKline (GSK) and entered into an agreement to form a joint venture. The details are as follows:
Novartis's vaccines business excluding influenza will be divested to GSK for up to $7.1 billion plus royalties.
Novartis's OTC will form a joint venture with GSK consumer healthcare. Upon completion of the joint venture, Novartis will own a 36.5% share of the entity.
Novartis also divested its influenza vaccines business to CSL Group for a consideration of $275 million. The blood transfusion diagnostic unit was divested to Grifols in January 2014 for a consideration of $1.7 billion.
Continuing operations and acquisitions
The continuing operations of Novartis are segregated into three divisions: Pharmaceuticals, Alcon, and Sandoz. The company has acquired GlaxoSmithKline's (GSK) oncology products for an aggregate cash consideration of $16 billion.
Novartis and Pfizer (PFE) together form nearly 11.3% of the total assets of the VanEck Vectors Pharmaceutical ETF (PPH).