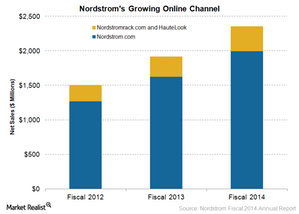 Nordstrom's Online Channel Fuels Sales Growth in Fiscal 2014
Nordstrom's online channel
Nordstrom's (JWN) online channel has been very instrumental in growing sales in recent years. At the Piper Jaffray Consumer Conference on June 9, Mike Koppel, Nordstrom's chief financial officer, named merchandise assortment expansion as one of the key growth drivers of its online business. According to Koppel, the upscale department store has been expanding its online assortment from 25%–30% every year.
Article continues below advertisement
Online sales growth
Nordstrom's online sales as a percentage of net sales grew from 6.0% in fiscal 2008 to 18.0% in fiscal 2014. In fiscal 2014 ending January 31, 2015, sales of Nordstrom.com grew 23.0% to ~$2.0 billion. Sales of Nordstromrack.com and HauteLook increased by 22.0% to $360.0 million. Nordstrom acquired HauteLook, an online retailer that hosts flash sales on designer goods, in 2011.
Nordstrom launched Nordstromrack.com in May 2014 and built it on a shared platform with HauteLook. Nordstromrack.com and HauteLook offer off-price merchandise at 30%–70% discounts compared to regular priced merchandise.
The growth of Nordstrom's online business has been phenomenal so far in 2015. In 1Q15, Nordstrom's online sales accounted for 19.2% of its net sales, up from 16.9% in the first quarter of the previous fiscal year.
Importance of the online channel
The importance of e-commerce has increased considerably, as consumers are finding online shopping very convenient. According to the US Department of Commerce, US e-commerce sales as a percentage of total retail sales increased to 7.0% in 1Q15 from 4.2% in the first quarter of 2010. Department stores like Macy's (M) and Kohl's Corporation (KSS) are continually investing in the growth of their online channels. These two department stores have integrated their store and online businesses and no longer report online sales separately.
Macy's and Kohl's together account for ~0.2% of the SPDR S&P 500 ETF (SPY) and 1.6% of the First Trust Consumer Discretionary AlphaDEX Fund (FXD).
In the next part of this series, we'll see how Nordstrom is investing in the expansion of its digital channels.