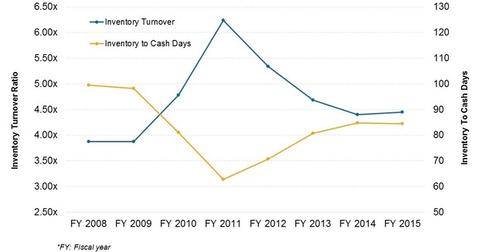 Inventory and Supply Chain Management Boosts Lululemon's Sales
By Phalguni Soni

Jun. 9 2015, Updated 8:07 a.m. ET
Analyzing lead times
A vertically integrated apparel (XLY) player, Lululemon Athletica (LULU) teamed with a third-party consultant to revamp its go-to-market calendar over the past year. This calendar revolves around three types of product lines: core, seasonal, and fast turn. Lululemon expects a fully operational calendar by 1Q16.
LULU's vertically integrated model gives it an advantage over its other sportswear competitors NIKE (NKE), Columbia Sportswear (COLM), VF Corporation (VFC), and Under Armor (UA). This is a major factor in LULU's inventory turnover ratios, which are among the best in the industry. They are comparable to fast-fashion retailers such as Inditex (ITX.MC) and Hennes & Mauritz (or H&M) (HNNMY).
Article continues below advertisement
Inventory management, scarcity, and demand
Deliberately keeping lower inventory stocks is one reason that inventory turnover at LULU is high. The company has been able to successfully deploy a scarcity strategy, which contributes to a faster sell-through of products and having fresher in-store merchandise. It is also a key generator of brand excitement among customers.
Lower inventory levels also help generate higher full-price sales, reducing the need for discounting while improving margins. This also helps maintain the brand's value, which is crucial for its premium products. Premium handbag maker Coach (COH), which is in the midst of a turnaround, also employs a similar strategy of lower discounting.
West Coast port delays
Inventory levels in the last few quarters were impacted by the standoff at the West Coast ports, which delayed shipments from reaching retail stores. It also meant lower inventories and higher scarcity in stores in the past fiscal year.
Inventory realignment is likely to take time, and Lululemon estimates that it might extend over 1H16. By the second half of fiscal 2016, the inventories would be in line with the company's long-term requirements.
New supply chain investments
Lululemon's (LULU) third distribution center, based in Columbus, Ohio, came online last year. This investment is expected to service the logistics requirements for Europe and the US. It is also expected to cut shipping times for East Coast customers by half.
LULU has also been investing in omni-channel capabilities through RFID tags on inventory, being able to view inventory online, and being able to order in stores. For more on these and other omni-channel initiatives, please read Part 6 of this series.