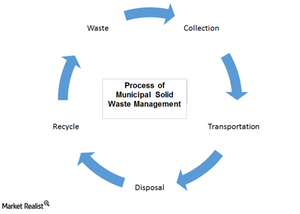 What Happens to Waste? The Basics of Municipal Waste Management
By Mike Sonnenberg

Jun. 29 2015, Published 1:52 p.m. ET
Municipal solid waste
In simple terms, municipal solid waste is trash or garbage discarded by households and commercial establishments. Municipal solid waste can include numerous items, from plastic bags to cans and food items.
Apart from municipal solid waste, other types of waste include industrial waste, medical waste, agricultural waste, and radioactive waste from nuclear power plants.
Municipalities or agencies and companies appointed by municipalities collect and transport waste from the source to processing or landfill disposal sites.
Article continues below advertisement
Recycling
Some recyclable materials such as paper, glass, metals, plastics, fabrics, batteries, and electronic waste are recycled into new products to reduce consumption of additional environmentally harmful raw materials. Companies such as Waste Management (WM), Waste Connections (WCN), and Republic Services (RSG) have a large presence in waste recycling. Waste Management (WM) is part of the PowerShares S&P 500 Low Volatility ETF (SPLV) with 1.06% holding.
Composting
Some perishable waste such as food can be decomposed and recycled as fertilizer and soil improvement material. The process is known as composting. The output from composting is generally used in organic farming.
Landfilling
Landfilling is still the most common method of waste management. Collected waste is compressed and dumped in remote areas. Landfilling is the most cost-effective method of waste disposal, especially in places like the United States that have large open areas. However, poor management of landfills can cause a variety of health, social, and economic issues. Waste Management (WM) produces power from gas trapped inside landfills.
In the next part, we'll look at energy from waste, the core competency of Covanta Holding Corporation (CVA).