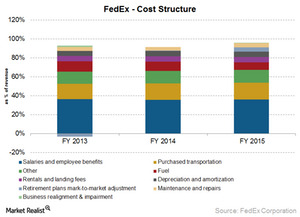 What Are FedEx's Major Costs?
By Ally Schmidt

Jul. 1 2015, Updated 9:06 a.m. ET
Huge fixed costs
In 2009, when the global recession hit, FedEx (FDX) wasn't able to escape damage. Its revenue fell slightly and its net income plummeted. The company is subject to high fixed costs due to the nature of the business. This makes its income highly vulnerable to a drop in package volume.
However, FedEx cut costs in a strategic fashion, streamlined operations, and continued to invest in both its brand and its customers. As a result, the company emerged strong from the recession.
Article continues below advertisement
FedEx's major operating costs
As you can see in the above chart, salaries and employee benefits form the highest cost for the company. They account for ~36% as a percentage of revenue. Salary costs rose by 6% for fiscal 2015. Purchased transportation costs have been rising for the past few years due to volume growth, higher utilization of third-party transportation providers, and the expansion of business. Purchased transportation costs rose by 10% in fiscal 2014 and 6% in fiscal 2015. Fuel expense fell ~18% in fiscal 2015. This was primarily due to the lower average price per gallon of jet fuel and lower aircraft fuel usage.
For fiscal 2015, the significant addition to the company's cost was the mark-to-market pension costs. FedEx recorded a $2190 million cost towards retirement plans' mark-to-market adjustment. We'll discuss this more in the next part of this series.
Capital-intensive business
FedEx has to make significant investments in vehicles, aircraft, technology, package handling facilities, and other capital to support its transportation and business networks. FedEx has spent ~8% of its revenue on capex (capital expenditure) for the last ten years. In contrast, United Parcel Service (UPS) has spent half this amount because of its newer fleet.
In the future, Fedex will require substantial capex because it needs to replenish its fleet.
FedEx forms a 2.18% holding of the PowerShares Buyback Achievers ETF (PKW). Other companies included in the ETF are Boeing (BA), General Dynamics (GD), and Northrop Grumman (NOC) with 4.4%, 2%, and 1.43% holdings, respectively.