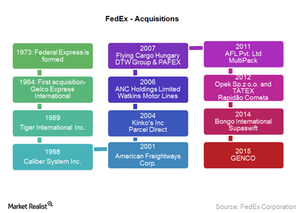 FedEx's Growth Is Led by Acquisitions and Technology
By Ally Schmidt

Jun. 30 2015, Updated 9:06 a.m. ET
Growth through acquisitions
By 1983, FedEx (FDX) had become the strongest delivery business in the nation. It started to look outside the country for newer opportunities. The company started a string of acquisitions in order to grow more.
In 1984, the company made its first acquisition—Gelco Express International. It launched its operations in Asia-Pacific. It introduced technologically-advanced systems like FedEx PowerShip—the first PC-based automated shipping system, SuperTracker—a hand-held bar code scanner system, and Federal Express Clear—an electronic customs clearance system that kept it above all of its competitors.
In 1987, it acquired Cansica and Island Courier Companies. In 1988, FedEx purchased Italy's SAMIMA and three freight carriers based in Japan. Sales neared the $4 billion mark and earnings grew to $188 million.
Article continues below advertisement
Next, FedEx acquired Flying Tigers in 1989 and air routes from Evergreen International in 1995. It launched the Asia-Pacific hub—FedEx AsiaOne. Then, it went on to become the first company to allow customers to process shipments online with the introduction of FedEx interNetShip in 1996. FedEx acquired Caliber System in 1998 and Caribbean Transportation Services in 1999. It launched its EuroOne network.
In 2001, FedEx formed a public-private alliance with the United States Postal Service. It also acquired American Freightways. In 2004, FedEx acquired Kinko's. This helped the company broaden its residential delivery portfolio. It also acquired Parcel Direct—it was renamed "SmartPost." In 2006 and 2007, the company made a string of acquisitions including Watkins Motor Lines, Flying Cargo Hungary Kft, and Tianjin Datian W. Group. This helped it broaden its reach to new markets.
Article continues below advertisement
From 2011 until 2015, the company acquired AFL, Unifreight India, MultiPack, Opek, TATEX, Rapidão Cometa, Supaswift, Bongo International, and GENCO. These companies helped FedEx grow its network in India, Mexico, Brazil, South Africa and its neighboring countries, Bongo, and France. The latest addition is TNT Express. This will expand the company's ground operations in Europe.
These acquisitions have played a major role in helping FedEx reach the huge global scale of operation that it enjoys today. As a result, the company's average daily volumes rose. This improved sales. The acquisitions also helped the company gain market share.
TNT acquisition 
Recently, FedEx announced that it will acquire TNT for an all cash deal of $4.8 billion. The deal is at half the price of what its rival United Parcel Service (UPS) bid for TNT two years ago. The UPS-TNT deal didn't get regulatory approval due to concerns about creating a duopoly.
After the acquisition, FedEx will gain significant exposure in Europe—areas where it's currently absent. The acquisition will help the company take advantage of growth opportunities in Europe. It will also help lower the operational costs in Europe. This will improve its profits.
FedEx forms a 2.18% holding of the PowerShares Buyback Achievers ETF (PKW). Similar companies included in the ETF are Expeditors International (EXPD) and Allegiant Travel (ALGT) with 0.4% and 0.14% holdings, respectively. It also includes FedEx's vendor Boeing (BA) with a 4.44% holding.