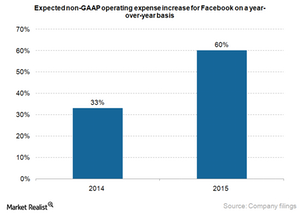 Facebook Objects to Startups Using Similar Names
Facebook files trademark infringement case against startup
In a Wall Street Journal article titled "Facebook Fights Startups over Names," journalist Ruth Simon reports that Facebook (FB) has filed an objection against a startup called Designbook for using a similar name. According to Facebook, the name Designbook infringes its name trademark and could mislead customers.
Designbook is run by two friends, Kyle Clark and Aaron Pollack, and a team of six people. The startup wants to help future entrepreneurs raise money from venture capitalists.
Article continues below advertisement
This isn't the first time that Facebook has filed a trademark infringement case. Similar cases have been filed against startups using a similar name in the past. One such example involved a teaching startup called Teachbook that faced a similar charge from Facebook. The startup renamed itself TeachQuest to avoid legal costs and charges.
Such legal cases can prove a deterrent to the success of startups, as a lot of valuable resources get wasted in the process. It deeply effects the execution of business, which should be the prime focus of a startup during its early days.
Tables turned
Facebook had to deal with its own infringement case brought against it by a company named Timeline in 2011. The case involved Facebook's use of the word "timeline." The matter was settled out of court, however, and dismissed in 2013.
Article continues below advertisement
Future outlook
Facebook is a Dominant Player in the Social Network Market. The company recently became the 16th most valued company with a market capitalization of $231.6 billion. In 2015, Facebook expects to increase its investments by between 50% and 70% on a non-GAAP basis (generally accepted accounting principles), compared to 2014.
As the chart above shows, the percentage increase in annual operating expenses in 2015 will amount to about double 2014 expenses.
Facebook isn't the only player in the Internet industry to substantially increase its investments. Amazon.com (AMZN) is foraying into the handcrafted goods and private-label brands.
eBay's operating margins fell from 26.8% in 3Q13 to 23.7% in 3Q14. This year, eBay (EBAY) is gearing up to build its two standalone companies, eBay and PayPal. To establish PayPal as an independent company, eBay is expecting a one-time cost of 4% to 5% will affect its operating margin in 2015.
Another eBay initiative could increase its operating expenses. This involves the launch of a program similar to Amazon Prime in Germany (EWG).
Similarly, Alibaba's (BABA) EBITDA (earnings before interest, taxes, depreciation, and amortization) margins fell from 57% in fiscal 4Q14 to 49% in fiscal 4Q15. The company is investing in new business initiatives such as cloud computing, mobile operating systems, digital entertainment, and local services.